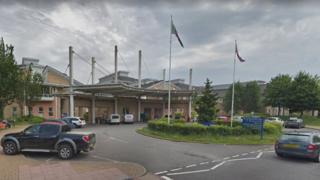 Plans which could see an A&E department downgraded at a south Wales hospital are being considered by health chiefs.
The proposals would mean an end to 24-hour consultant-led services at Royal Glamorgan Hospital's A&E.
Cwm Taf Morgannwg University Health Board will discuss the options in a report to the board on 30 January.
Interim chief executive Sharon Hopkins said service and staffing pressures meant the current set up was "increasingly unsustainable".
She said staff had "worked exceptionally hard" to deliver emergency services across three sites – the Royal Glamorgan Hospital, the Princess of Wales Hospital in Bridgend and Prince Charles Hospital in Merthyr Tydfil.
But in a statement Dr Hopkins added: "Continuing and growing service and staffing pressures have meant that this situation is becoming increasingly unsustainable… and safe services cannot be maintained beyond the immediate short term without unacceptable risks to patient safety".
The report says an option to continue the current system should be "rejected", instead recommending two options.
One would see the consultant-led service end, replaced by a minor injuries unit with nurses.
The other would see consultants continue at the Royal Glamorgan Hospital during the day, and a nurse-led minor injuries unit would operate overnight.