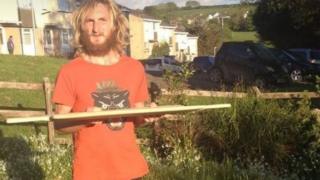 A man who killed three elderly men because he wrongly believed they were paedophiles has been cleared of murder.
Exeter Crown Court heard Alexander Lewis-Ranwell, 28, battered his victims – all in their 80s – with a shovel and a hammer in a "whirlwind of destruction".
He has paranoid schizophrenia and was having delusions about saving girls from a paedophile ring, jurors heard.
He was found not guilty by reason of insanity.
Twins Richard and Roger Carter, 84, and Anthony Payne, 80, were bludgeoned in February.
The court heard Mr Lewis-Ranwell was arrested and released by police twice in the lead-up to the killings.