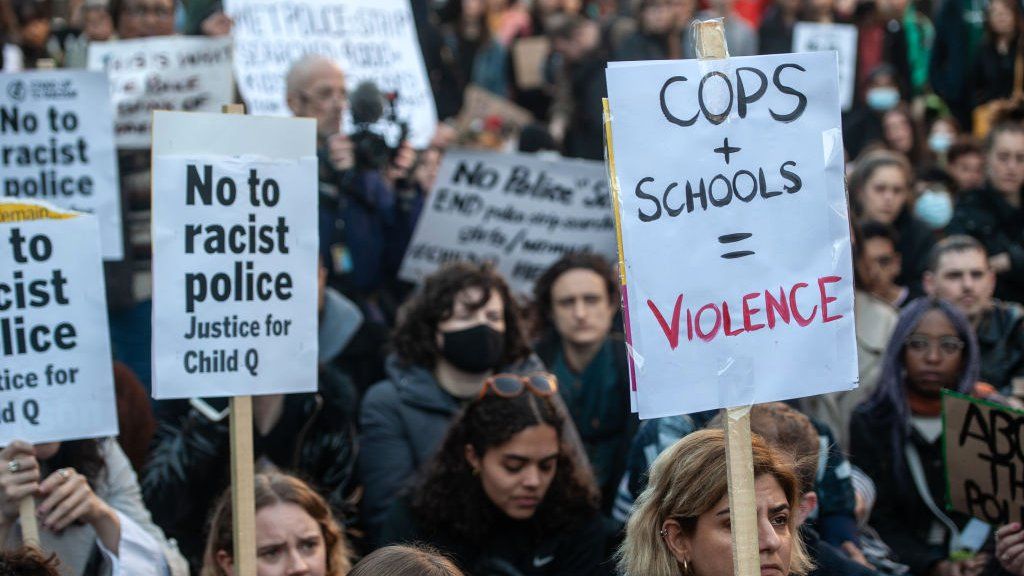 By Celestina Olulode & Jemma Crew
BBC News
Children as young as eight are being strip-searched by the police, according to a report showing "deeply concerning" and "widespread" failures.
It also found some children were strip-searched in the back of police vans, schools and fast-food outlets.
The report by Children's Commissioner Dame Rachel de Souza showed 2,847 children were strip-searched in England and Wales from 2018 to mid-2022.
The National Police Chiefs' Council will "carefully consider" the findings.
The Runnymede Trust, a race equality charity, said: "Our children are being failed by the state institutions there to protect them."
The report found black children were up to six times more likely to be searched than the overall child population.
More than half (52%) of the searches took place without an appropriate adult confirmed to be present – a legal requirement, except when there is serious risk to a child's life or welfare.
And the data shows 51% of the searches led to no further action.
Dame Rachel requested data in the wake of the Child Q scandal, which came to light in March 2022.
The case of the 15-year-old – strip-searched at school by two female Metropolitan Police officers while on her period and without an appropriate adult present – drew national outrage.
It prompted Dame Rachel to request figures from Scotland Yard, which she found so concerning that she then asked all forces for comparable data.
Some 39 of 43 forces responded. The figures cover searches under stop-and-search powers over four-and-a-half years.
They reveal evidence of "deeply concerning practice", Dame Rachel said.
Her office identified searches at 27 forces which raise concerns about children's safeguarding, or indicate a breach of the statutory code of practice. It has asked for these to be referred to the police watchdog.
Of the nearly 3,000 searches, almost a quarter (24%) took place on children aged 10-15. The youngest was eight years old.
The vast majority were boys (95%), and black boys accounted for more than a third (37%) of strip-searches.
Dame Rachel said it was "utterly unacceptable" that black children were six times more likely to be strip-searched compared with the national child population. White children were around half as likely.
"We cannot have black children treated like this," she said.
Guidelines need to be strengthened urgently to ensure they are followed properly and "to robustly challenge a culture that has allowed widespread failures to go unchallenged", she said.
She continued: "This data, combined with that which I received from the Metropolitan Police last year, is the clearest indication yet that what happened to Child Q was far from an isolated incident."
Speaking on BBC Breakfast, she warned strip-searches can be traumatic for children, and the first thing officers should do is "call mum and dad".
Dame Rachel said she wanted to ensure that if strip-searches were done there was "really good justification".
Policing Minister Chris Philp said there needed to be clarity on why these searches were undertaken.
"Very often criminal gangs exploit young people to transport drugs concealed in intimate body cavities", he said.
"It is important that these searches get done to safeguard young people who may be getting exploited", he told BBC Breakfast.
In 45% of cases the location of the strip-searches was not recorded.
But Dame Rachel said the data also revealed "some places that are really not acceptable for a strip-search" including amusement parks and takeaway outlets. Fourteen strip-searches were in police vehicles or schools.
Police guidelines say that strip-searches under stop and search can occur at a nearby police station or other nearby locations out of public view – but not a police vehicle.
Other recommendations in the report include that the Home Office should require forces to report annually on the strip-searching of children under stop and search, and that parents or guardians should be informed before a strip or intimate search of a child.
Chief Constable Craig Guildford, from the NPCC, said any search of a child should be carried out in line with the law and police policy.
He said the NPCC was working with other policing bodies to "implement positive change wherever it is required", adding: "We will carefully consider the findings from the children's commissioner as part of this work".
The Home Office said nobody should be strip-searched because of their race and ethnicity, and there were safeguards to prevent this.
A spokesperson said: "We take the concerns raised about children's safeguarding extremely seriously.
"The Independent Office for Police Conduct is currently investigating several high-profile incidents of strip-search of children and it is vital that we await their findings."
The figures follow last week's damning report into the Metropolitan Police by Baroness Casey, which said London's black communities have been "over-policed and under-protected".
It said previous data found "significant racial disproportionality" in the strip-searches of children by Met officers.
The report said this gave weight to the claim that "adultification" – where black children are treated as adults and as a threat, justifying greater use of force or intrusion – was present in the force.