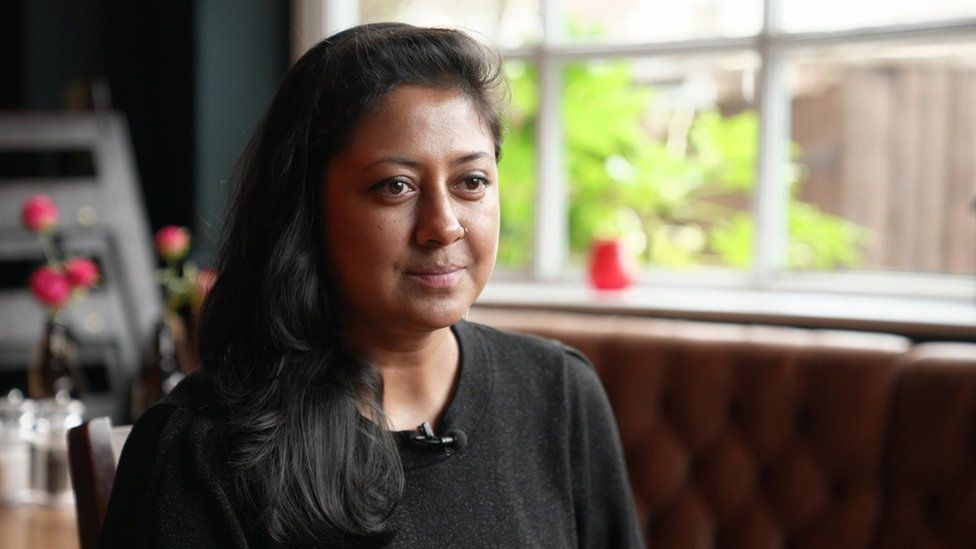 By Victoria Bourne and Rebecca Cafe
BBC News
A woman who reported being raped to the Met Police has called the force "vile" and said she did not think there was any chance of reforming it.
Tashmia Owen told police about an attack in November 2020. What followed was a series of events in which she was warned she could be investigated.
The force said Ms Owen's complaint about her treatment was investigated.
Baroness Casey's report, commissioned in the wake of Sarah Everard's murder by serving officer Wayne Couzens in 2021, said Britain's biggest police force was "institutionally racist, misogynist and homophobic", and warned there may be more officers like Couzens and serial rapist David Carrick.
Reacting to the report, Ms Owen, who has waived her right to anonymity, said she was not surprised. "It's sort of almost like a well-kept open secret," she said.
She said her first contact with the Met was when police officers came to her home to speak to her about the attack.
"They were brilliant, they were incredibly supportive, very patient with me," she said.
They took her to a facility called the Havens, a network of sexual assault referral centres managed by an NHS foundation trust.
'I would be investigated instead'
The following day, after her recorded interview in which she recounted the details of her rape, she first came into contact with the detective who would look after her case.
"After the interview finished, the detective came into the room. He had been watching through the cameras, and told me if I deleted anything on my phone he would be investigating me instead. That was his introduction to me," she said.
Contact continued in a "very antagonistic and accusatory" manner, she said.
Ms Owen's friends, being spoken to as witnesses, had "fractious" interactions with the same detective and he was "confrontational with them also, as if they had done something wrong".
As the investigation continued, she became concerned for her own safety and that of her children, due to threats she had seen online.
The detective "called me a liar", she said. "He said to stop telling him about what was being written on the internet and what was happening.
"I had said that I found it harmful and I was finding it scary, because this person had also threatened me online repeatedly, and my children."
She also said he told her he did not agree with her definition of "harm".
"He believed that the only way that this person would be harming me would be if they arrived at my home and they had proceeded to break all my limbs," she said.
"Only then should I call him and let him know that some harm was being done to me. I was just stunned, scared, because I realised that I was not being believed and I wasn't going to be kept safe. It was in my hands.
"And in some ways, my hands were tied, because he pointed out that if I tried to do things on my own, without them, that he would arrest me instead."
She said when she complained about the detective, another officer laughed, telling her: "Oh, yes, that's what he's like. He's essentially a dinosaur; all bark, no bite."
'Abhorrent institution'
He was then "quite flippant and dismissed it".
Of the attitude in the Met, she said: "It's quite abhorrent but it seems to be prevailing in the police force. It feels like we can't get away from it.
"They are an abhorrent institution and I don't think there is any chance of reforming them."
In response, the Met said it had received a complaint in 2022 regarding comments allegedly made to the complainant by the investigating officer, who was a detective constable, and a detective sergeant.
The complaint was investigated by the Professional Standards Unit, the force said.
It added the sergeant was given reflective practice and reminded about appropriate use of language when referring to a colleague, while the investigation into the constable was inconclusive.
'Constantly let down'
A police officer and victim of serial rapist and disgraced former colleague David Carrick has also responded to the Casey report.
"As a victim of David Carrick as well as a current serving Met officer, I struggle daily to listen to criticism aimed at all MPS staff, including myself, and try to keep some degree of pride in my role and to maintain a professional approach in all that I do," she told the BBC.
"I fully understand how the public can have such low trust and respect for us but I beg them to continue to report any crimes and support us… a difficult ask, I know."
She pleaded with people to "keep in their minds the vast majority of officers were keen to do the best job" possible, but added she felt officers were "constantly let down by our management".
Meanwhile the family of one of serial killer Stephen Port's victims has called for a public inquiry to understand "how and why this force is failing people so badly".
In December 2021, inquest jurors found "fundamental failures" by the police left Port free to carry out a series of murders, as well as drugging and sexually assaulting more than a dozen other men in Barking, east London, between June 2014 and September 2015.
The Met was accused of homophobia over the failure to stop Port after he killed his first victim and went on to murder three more men, but force bosses denied there was an issue.
Donna and Jenny Taylor, sisters of Port's fourth and final victim, Jack Taylor, 25, said the report highlighted the "toxic culture" across the Met, adding that they believed police would have reacted differently
The same finding was made in 1999 by the Macpherson report into the handling of her son's racist murder.
She described the force as "rotten to the core" said the Casey report and its findings were "the last chance for the Met Police to get it right, and if it does not, it must be forced to do so".
The founder of Police Me Too, who uses the pseudonym Freya, told the BBC: "I am angry and sickened by this report.
"I feel devastated at the accounts I've read. They reflect women's testimony to Police Me Too. Our policing by consent is broken."
Freya was involved in the super complaint against the police brought by the Centre for Women's Justice over police perpetrated abuse.
Related Internet Links
The BBC is not responsible for the content of external sites.