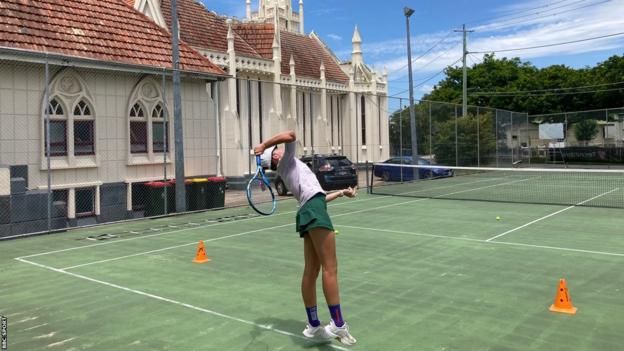 The occasional weed is sprouting through the odd crack on the green concrete tennis court of the Graceville Uniting Church near Brisbane.
A couple of miles away from the Queensland Tennis Centre, where world number one Iga Swiatek was among the names competing in January's United Cup, 14-year-old Liv Wood is testing her backhand against pace and spin.
Liv is the eldest daughter of Ray Wood – the Liverpudlian whose dream was to "create two of the greatest female tennis players the planet has ever seen".
Since my last meeting with the Brisbane-based family in 2018, that goal has changed.
Ray's eight-year-old daughter Paloma has chosen football instead.
But Liv – who took up tennis aged three – is still pursuing a career in the sport and in January competed in her first open professional tournament.
In recent years, Liv has turned her back on junior tennis in disillusionment at the cheating of players who call their own lines.
She has tried her hand at swimming and Australian Rules Football as tennis took a back seat for a while to guard against injury.
But she figured it would take a long time to get good at either of those sports. So it was time to step it up on the court.
"I'd love to go on to the tour," says Liv, who was midway through Australian former world number one Ash Barty's autobiography when we met.
"I know my dream is to become number one, and hopefully it comes true. But I'd love to go on the tour."
A first taste of the adult professional world
The Bayside Open in Redland Bay, with a total prize fund of 2,100 Australian dollars (£1,155), was the venue for Liv's first open professional tournament in January.
Three events into her fledgling career, against invariably older and far more experienced players, she is still searching for a first pay cheque.
But this is her future now. Her junior career is behind her, as Ray and the family decided when she was 12 that it was too stressful.
"I think there's a lot of pressure from a lot of the parents. The juniors call the lines themselves and unfortunately you do get a lot of very indifferent calls and it makes it not enjoyable for the kids who are genuine and do play by the rules," he explains.
"She's hitting with men and women. Don't get me wrong, she's being cleaned off the court some weekends by some really high-level male players but she more than holds her own against female players."
Liv admits "there were some challenging games" as she recalls her junior days.
"I got affected a little bit mentally and would sometimes come off the court crying," she said.
"The umpires would always decide with the other player, because it's always their call. You've got to be on to everything, and always be watching what the other player is doing."
Liv might have been competing and living in Spain by now if it had not been for the pandemic. Ray and his Australian wife Angela opted to stay in Brisbane, but Liv is expecting to spend up to eight weeks this year at the Catalunya Tennis Academy in Barcelona.
Avoiding injury during a growth spurt
Liv only resumed her full tennis schedule in October – after an 18-month period in which she did just four to six hours a week to guard against overuse injury in puberty, and sapping enjoyment levels.
Ray was wary of the dangers from his experience in elite football, which includes spells at both Paris St-Germain and Leicester City.
"It looks like it's worked out well as she's come through the other end with no injuries," the 43-year-old says.
"She's five foot nine, five foot 10 maybe, and still growing. There's two girls we know of, who Livi's friends with.
"One went through a full shoulder reconstruction. One went through a wrist operation – and that's purely just for the amount of hours they are doing on the tennis court as their body is going through the change."
Liv added that "it was good to have a break".
"We were trying to get out of the routine of getting up for training every day," she said.
That routine changed further in January, when Liv enrolled at Kelvin Grove State School on a full tennis scholarship. At the expense of a couple of academic subjects, she is now able to train for about eight hours a week during the school day.
Paloma prefers football
Ray has not coached Liv for many years, but was still picking up the balls in the training sessions I watched on a typically sunny and humid Brisbane day.
And at the age of eight, Paloma is now old enough to offer her older sister a piece of seasoned advice from the side of the court.
In Ray's original plan for his daughters – which ran to more than 100 pages – he was going to create two champion tennis players.
He maintains that over a 10 to 15-year period he could create a champion in any sport – but that you have to stay flexible.
"We gave her an opportunity to try tennis," Ray explains.
"We said to her you are going to have to choose a sport that you are maybe going to give a good go at and she chose football over tennis, and we were happy to support that.
"Now we have one tennis player, and one football player. And they will both play for England which is good, so hopefully one will win a World Cup and the other will win a gold medal at the Olympics."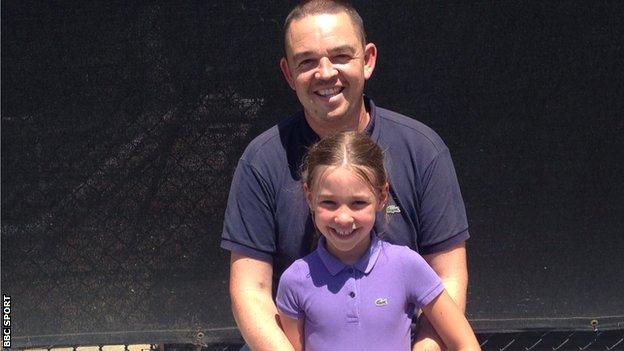 What might the future hold?
"You might as well buy a lottery ticket" was the way 18-time Grand Slam singles champion Martina Navratilova summed up Ray's dream when we discussed this last in 2018.
"Champions are born, and then they have to have the right environment to be made. Putting all the eggs into this one basket, it puts a lot of pressure on the kids," she added.
Ray's firm belief is that anyone can make it to the top.
"I've worked with boys who were 11 or 12 when I worked in the Premier League at Leicester City and a lot of people would say these boys are never going to get an opportunity because if Leicester need a player they'll just go and buy one.
"I've worked with players like Luke Thomas and Harvey Barnes – and if they can do it, then my daughter can do it and anyone's children can do it."
Ray says he remains confident Liv will make it on to the WTA Tour, and hopes Grand Slam titles will follow. But this was the first time in our three meetings I have heard him admit the story may not end in quite that way.
"I'm always a big fan of aiming as high as possible, and if you fall a bit short that might still be a good outcome," he says.
"I've never ever told Livi this, but I think for me just the opportunity to get a scholarship and travel overseas and study at a college, that would be still a superb outcome. There was a little bit of psychology behind it."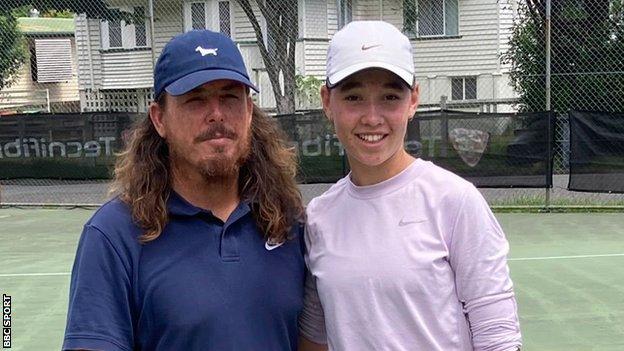 One of Liv's coaches in Brisbane is Glenn Moodie. Before the family headed off for some lunch and an ice bath in between sessions, he drew parallels with Richard Williams.
"The consensus over here, without anyone knowing the ins and outs of it all, was that he was crazy," he says.
"But I always thought that he was trying to develop something for his kids where if they didn't make it they had a good work ethic, good morals and were developing good habits to succeed in whatever they plan to do.
"I always thought that was good provided they are not getting dragged on to the court. It's a bold plan but I think you have got to have one – I think you have to get there by design.
"From what I've seen, I feel like if she stays motivated and wants to do it for herself, Liv could be playing the Australian Open one day for sure."
You can listen to Russell Fuller's interview with Ray Wood on 5 Live Sport from 21:00 GMT on Monday, 13 March.