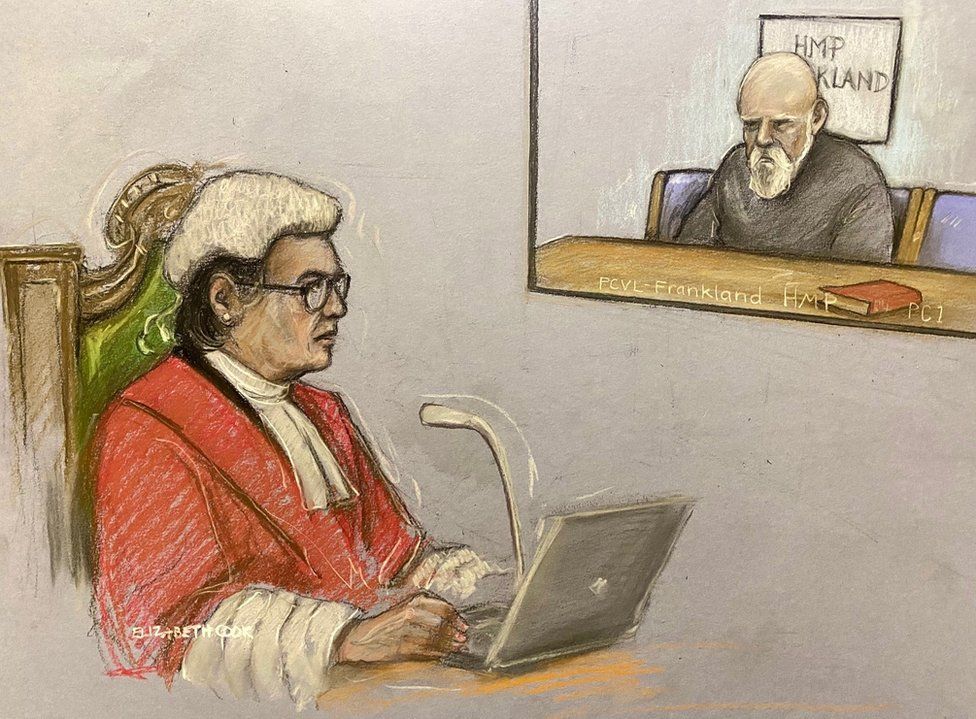 Victims of indecent exposure by serving Met Police officer Wayne Couzens have said he could have been stopped from murdering Sarah Everard if their reports had been properly investigated.
He has been sentenced to 19 months for the indecent exposures in Kent, in woodland and at a McDonald's between November 2020 and February 2021.
The 50-year-old is already serving a whole-life term for the abduction, rape and murder of Ms Everard in March 2021.
The Met Police has apologised.
Deputy Assistant Commissioner Stuart Cundy, who leads the Met's Directorate of Professional Standards, said: "Like so many, I wish he had been arrested for these offences before he went on to kidnap, rape and murder Sarah Everard and I am sorry that he wasn't."
In tears, one McDonald's worker who Couzens exposed himself to said if action had been taken when they reported the crime, "we could have saved Sarah", as Ms Everard's mother Susan attended the hearing by video link.
At the Old Bailey, Mrs Justice May said the sentence served as "public recognition" of the offences and their impact on the victims, and noted "their courage and resilience" in coming forward.
Couzens' sentence for indecent exposure does not affect his whole-life term.
The former officer was supposed to be on duty and working from home when he exposed himself to a female cyclist in a country lane in Kent in November 2020.
Couzens went on to expose himself to two female attendants at a McDonald's drive-through restaurant in Swanley, Kent, with the last incident just days before he kidnapped 33-year-old Ms Everard in south London.
Mrs Justice May said the impact statements read in court spoke of the victims' "shock" over Couzens' "selfish and aggressive" acts.
She said the victims spoke about feeling like their freedom and security had been taken from them, with one woman experiencing "survivor's guilt".
It was shocking to sit in court and watch the CCTV from the McDonald's in Swanley when Wayne Couzens exposed himself. Clearly visible the number plate: "AF12XXW".
This number plate reported to the police three days before Sarah Everard's murder along with details of his credit card. That car, if it had been checked was registered to Wayne Couzens, a police officer. He could have been suspended and arrested.
In tears, one of the McDonald's workers who he exposed himself to was quite clear: "I had no-one contact me or ask for a statement. It was only after Sarah's murder that I became involved. If he had been held accountable when we had reported the crime, we could have saved Sarah."
The judge was also damning, declaring that the fact no police officers came to find him or his black car and question him can only have strengthened his "dangerous belief in his invincibility; his power sexually to dominate and abuse women without being stopped".
There can be no clearer indictment of the police and their failures.
The Old Bailey heard when Couzens exposed himself to the female cyclist, he was "totally naked".
Prosecutor Tom Little KC said the cyclist had a clear view of him and clearly remembered what he looked like.
About 50m (165ft) further on, she cycled past a parked black car which looked "old" and "a little battered" but she was unable to recall the full number plate.
As she rode on, she came across two women – one of whom said she was a police officer – and told them what she had seen. The officer said she would keep a look out.
She also rang her husband and later reported the incident online to Kent Police.
At the time, Couzens had a black Seat car in poor condition but, in the absence of a number plate match, the investigation stalled.
A few months later, he went on to expose himself on different occasions to two female attendants at a McDonald's drive-through restaurant in Kent.
On the last occasion, staff took a registration number and identified the car from CCTV as a black Seat which was registered to Couzens.
A credit card in his name was used to pay, while Automatic Number Plate Recognition (ANPR) and cell site data was used to track the defendant's car in the area at the time of the incidents.
'Not taken seriously'
After Couzens' arrest over the disappearance of Ms Everard, the cyclist recognised him from his picture and contacted the police.
In an impact statement read out in court, she said her freedom to enjoy country walks and cycling had been taken away by his "selfish, aggressive act".
"I remember vividly being concerned that somebody who could expose themselves to a stranger in such an intimidating way could go on to commit much more serious acts. This is what happened."
She told Couzens: "Four months after you exposed yourself to me, you raped and murdered an innocent woman.
"There were opportunities to identify you and they were not taken. I did not feel that, when I reported your crime, it was taken as seriously as I felt that it should have been.
"The horror of what happened will remain with me for the rest of my life."
'Missed opportunities'
Met Police Assistant Commissioner Stuart Cundy told the BBC there were missed opportunities to stop Couzens.
"It's fair to say we could have done more and we will do more," he said.
"I am sorry for the Sarah Everard family. I can't imagine what must be going through their minds today and my thoughts are with them and all those Wayne Couzens targeted."
After the hearing, the police watchdog published a report showing Couzens making derogatory comments in a WhatsApp group with other serving police officers about women, victims of domestic violence and racially diverse areas of London.
The Independent Office for Police Conduct (IOPC) said the messages contained "racist and homophobic comments, and derogatory remarks, aimed at domestic abuse victims, people with disabilities and women".
Ex-PCs Jonathon Cobban, 35, and Joel Borders, 46, were jailed in November for sharing the "grossly offensive" messages.
Related Internet Links
The BBC is not responsible for the content of external sites.