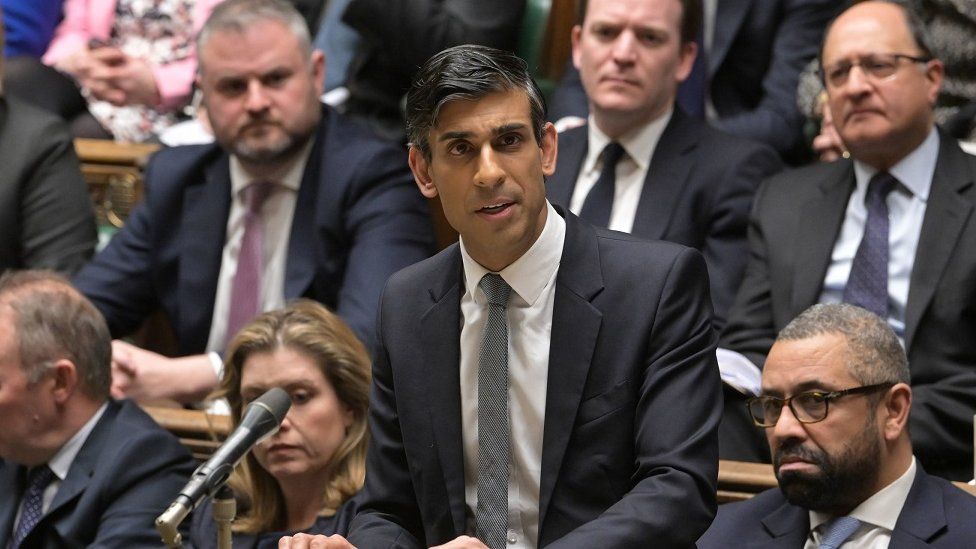 By Chris Mason
Political editor, BBC News
Plenty of people in government involved in delivering the so-called Windsor Framework are wiped out.
A deficit of fresh air, sleep and time with their families continues, as they observe the reaction to what they have spent months working on.
At least one of Rishi Sunak's biggest political supporters had initially tried to put him off taking this on. "There are no runs in it," one said to me, suggesting the prime minister "leave it to Keir Starmer to sort out."
Impressed that he had managed to strike a deal, this ally compared it to the Downing Street Declaration of 1993, widely seen as a vital staging post in the Northern Ireland Peace Process.
The point my source was making was that Sir John Major's achievement then, alongside his Irish opposite number Albert Reynolds, was not rewarded at the ballot box a few years later.
But this former minister reflected that it can help demonstrate a seriousness of purpose and achievement in Rishi Sunak's government, that critics will say the last two prime ministers lacked.
The prime minister has become something of a travelling salesman for his deal: taking in Windsor, parliament, Northern Ireland and parliament again in just over 24 hours.
Rishi Sunak is confident the substance of what he has negotiated is a good deal, grounded in a strong personal relationship with the European Commission President Ursula von der Leyen, and one based on mutual trust.
But this is where it encounters domestic politics.
Firstly, it's worth spelling out what hasn't happened. There hasn't been an almighty row within his own party, a re-ignition of the volcanic ructions you might have noticed in the last year or two. That, in itself, is an achievement.
More than that, there have been some Conservative MPs – who expected to be critics – finding themselves sounding positive. It is as if, in complimenting the government for its strategy around Brexit, they are suddenly exercising muscles in their jaw they didn't realise they had.
One said they thought they would have to "eat humble pie" and admit their initial instinct "was wrong" and that "Rishi has squared the circle."
But there is, still, a scepticism.
After the prime minister addressed a meeting of Conservative backbenchers, veteran MP Peter Bone told us it felt like the immediate hours and days after a Budget, where the government is emphasising the good stuff in it but critics have yet to find the bad stuff buried in the documents.
At a further meeting of the European Research Group of Tory MPs, which regards itself as the custodian of what its members see as a true Brexit, there was a more circumspect outlook. They want to give it the once over, and they reckon that will take around a fortnight.
The strategy from Downing Street is now to give people time. The time and space to read and absorb a vast amount of detail and come to their own conclusions. Don't rush people into a kneejerk "no". Give people time to conclude that it might be worth saying "yes".
Meanwhile, we await the verdict of one Boris Johnson. Mr Johnson, who always aspires to be a political Pied Piper, leading an argument with a lengthy line of folk following him, remains quiet.
Will there be a lengthy line of opposition for him to lead?
It depends, to a great degree, on Northern Ireland's Democratic Unionist Party (DUP). Do they back it, and, eventually, return to government in Northern Ireland? Or do they reject it?
Some Tory MPs await their verdict and will follow their lead – the government awaits it too.
For it is the DUP's verdict that will shape how many will ultimately feel – on whether Rishi Sunak's new Brexit deal for Northern Ireland has succeeded in its most important aim, or failed.