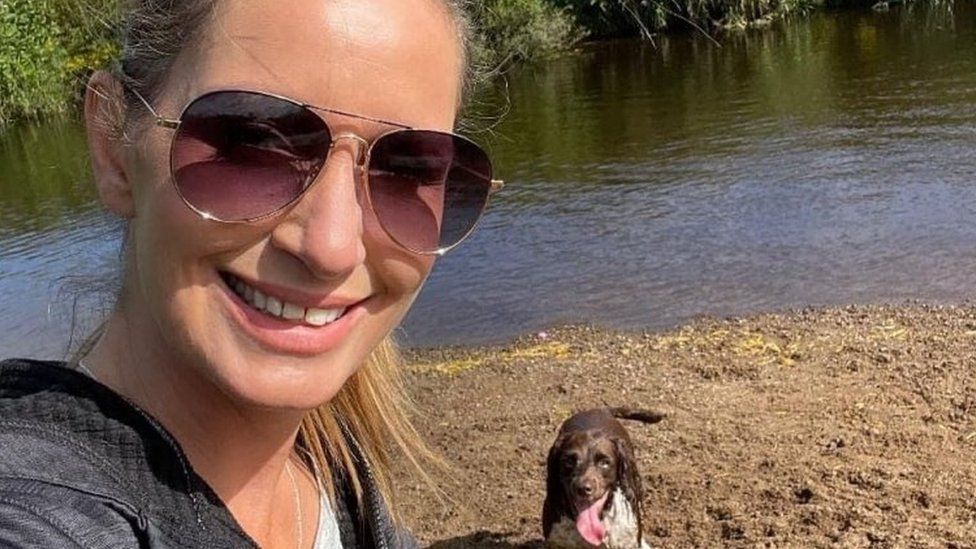 By Emma Stanley & Lynette Horsburgh
BBC News
Broadcasting regulator Ofcom has said it was "extremely concerned" to hear complaints made about ITV and Sky News by the family of Nicola Bulley.
Ofcom said it had written to both "to ask them to explain their actions".
ITV said it will cooperate fully with Ofcom. Sky News has yet to comment.
Ms Bulley's family criticised parts of the media and some members of the public for their "absolutely appalling" conduct since she disappeared while walking her dog along the River Wyre in St Michael's on Wyre, Lancashire, on 27 January.
It is understood Sky News has received Ofcom's letter and will work closely with the watchdog to answer its questions.
ITV said: "As a responsible broadcaster, we will cooperate fully and respond in detail to Ofcom's request for information.
"We express sincere condolences to the family at this difficult time and we will not be commenting further."
ITV News had believed Ms Bulley's family were willing to engage with the media, it is understood, but withdrew when a family member declined to speak to them and have not made contact since.
Former Sunday Telegraph editor Baroness Wheatcroft also responded to Ms Bulley's family condemnation of some media organisations, including for allegedly not respecting their privacy.
The crossbench peer said there was "every reason for people to be deeply upset".
Speaking on BBC Radio 4's Today programme, Baroness Wheatcroft said the Independent Press Standards Organisation (IPSO) must "demonstrate it really has teeth" and examine how Ms Bulley's disappearance was reported.
"I absolutely agree that the editors in this case do not seem to have behaved as they should and I think it's the opportunity for IPSO to demonstrate that it means business," she said.
"As a former newspaper editor I'd always hope that my reporters respected the people they're dealing with and in any situation like the Nicola Bulley case if the family said 'lay off' they would have absolutely run a mile."
People had been behaving "very badly, not least members of the public and social media", she added.
"It's become the most extraordinary feeding frenzy."
Evan Harris, former director of campaign group Hacked Off, said: "There's one big difference between the people on social media, who I condemn, and newspapers.
"That's the editor. These purport to be an edited, curated product, therefore they can be regulated and they should be regulated. It's hard to regulate a bloke in his basement."
At a meeting of the Digital, Culture, Media and Sport Committee, SNP MP John Nicholson referred to a news report which he said told of people "literally hunting for clues as tourists in the village", and included references to people taking selfies on the bench near to where Ms Bulley disappeared.
Mr Nicholson suggested such people were "enjoying the attention and feeling that they're at the centre of a drama" which was "deeply distressing for the family".
Areeq Chowdhury, head of policy, data and digital technologies at the Royal Society – a fellowship of some of the world's most eminent scientists – told the committee the media frenzy in Ms Bulley's case was "disgusting".
He said people taking selfies at the site where she went missing could have been seeking a sense of "personal validation" or hoping to make money from online clicks.
In a statement issued after police confirmed Ms Bulley's death on Monday, her family said her partner Paul Ansell had been falsely accused of wrongdoing and her friends and family "misquoted and vilified".
They said: "We tried [on Sunday] to take in what we had been told in the day, only to have Sky News and ITV making contact with us directly when we expressly asked for privacy.
"They again have taken it upon themselves to run stories about us to sell papers and increase their own profiles.
"It is shameful they have acted in this way. Leave us alone now.
"Do the press and other media channels and so-called professionals not know when to stop? These are our lives and our children's lives."
The family said it was "absolutely appalling and can't happen to another family".
'Uncomfortable'
Former ITN editor-in-chief Stewart Purvis, who has also worked as a senior Ofcom executive, said: "I think the whole issue of how you approach the families of those who have suffered, who are suffering from the disappearance and possibly the death of a loved one, is a continuing issue in the media."
He said the lack of a public response from ITV or Sky News suggested they were "uncomfortable with the position they are in".
"I'm sure they don't want to get into a public row with the family, but if they had a proper defence of this situation, I think we would have heard it from them by now, and I'm sure they're clustered in a group at the moment trying to work out what to say," he added.
Dominic Ponsford, editor-in-chief of media trade website Press Gazette, told BBC Radio 5 Live there had been research into media approaches to families following the death of a loved one.
"Families have said it's much worse if a terrible case like this ignored by the media," he said.
"Sometimes unexplained or abrupt deaths are ignored by the media for whatever reason and that can be very hard for a family.
"And also what can be very hard is when journalists don't approach them and try and get information from social media and get things wrong, which can be very, very hard as well on families."
Internal police investigation
Meanwhile, Downing Street said it expected Lancashire Police to be "transparent" about its internal investigation into how it handled the case.
The force was criticised for revealing some aspects of her private life during the investigation.
Zoe Billingham, formerly Her Majesty's Inspector of Constabulary, said people may be "more fearful of stepping forward to report loved ones missing" after the "gross invasion of privacy" suffered by Ms Bulley and her family.
Ms Billingham, who independently assessed police forces in her former role, said: "It's definitely not my job to judge Lancashire Police, but what I would say is what we've seen over the last few days is a gross invasion of privacy.
"And my message to women out there would be that if your loved one, if your mum or your sister went missing, what we've seen over the last few days is not OK; it's not what we would ordinarily see in a missing persons investigation."
Asked whether Rishi Sunak believed an independent, external review would be necessary, the Prime Minister's official spokesman said: "Our position is to allow the existing process to report back.
"We would expect them to detail their findings and then obviously we will consider the next steps as appropriate."
The investigation into Ms Bulley's disappearance has attracted widespread speculation, with internet conspiracy theories rife.
Members of the public even visited St Michael's on Wyre to conduct their own searches, some of which were posted on social media sites including TikTok.
Mr Ansell became the focus for criticism, with some falsely accusing him of involvement in her disappearance.