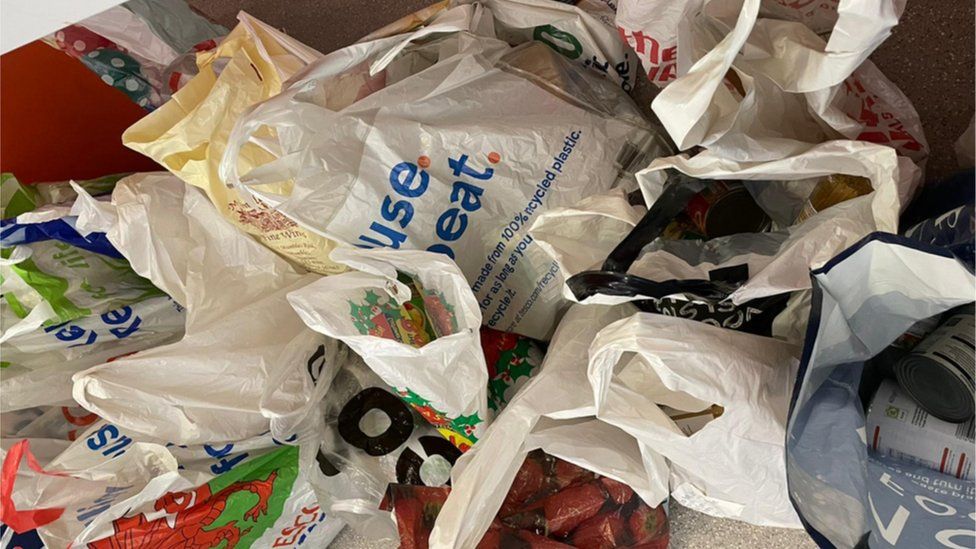 A foodbank for university students has been launched after concerns some are struggling with rising costs.
Swansea University Students' Union (SU) said it supported students to set up the service after concerns some could not afford to eat.
An SU officer said about 70 food parcels were claimed within 30 minutes it opening before Christmas.
The Welsh government said it provided the "most generous student support in the UK".
A senior lecturer at the university said the cost of living crisis was affecting students' mental health.
"We've got some students taking on two or three jobs in order to support themselves," said Esyllt Rosser, president of the SU.
"Lots of students are feeling really stressed and very concerned."
In response, Ms Rosser and her team at the SU helped student volunteers set up a weekly foodbank at the university's Singleton Campus.
The parcels, which are funded by the university, contain staple ingredients such as rice and pasta.
"We've got a lot of people here having to make really tough decisions," added Gwern Dafis, SU societies and services officer.
He said that when the union held a one-off foodbank before Christmas, about 70 boxes were claimed within half an hour.
Ms Rosser added: "Each time we've held a foodbank we've been completely cleared out in terms of stock."
For Elen, worrying about paying bills can have a "massive impact on your mental health".
"As students we have to worry about how much money we have, we have to consider how often we can go out and about socialising – which is very beneficial to us."
The third-year student called the foodbank idea "fantastic" because it will give struggling students "something we can lean on".
'Heartbreaking'
The National Union of Students (NUS) described the situation as "heartbreaking" but not surprising.
"Students should be thriving, not just surviving, but too many are drowning under spiralling rental costs, energy bills and food prices," a spokesman said.
A recent survey by NUS Cymru suggested 96% of students were cutting back on their spending, with almost a third left with just £50 a month to live off after rent and bills were paid.
"We're seeing a real uptick in mental health problems," said Simon Williams, a senior lecturer at Swansea University who is studying the effect of the cost of living crisis on mental health.
He added: "Financially insecure students are more than five times as likely to feel as though their mental health has worsened."
Ms Rosser and and Mr Dafis, from the SU, agreed, saying they had seen a big increase in the number of students reaching out for emotional support.
The Welsh government said it had recently increased student maintenance support by 9.4% for the next academic year.
A spokesman said: "All universities in Wales have hardship funds in place to help all students in financial difficulty, and have put extra cost of living support in place, which includes: crisis grants, free or low-cost food, free period products and free access to sports and activities. Anyone who's struggling financially should contact their student union or student support services.
"We also recently provided additional funding of £2.3m to help address the impacts on students of rising costs, providing mental health and well-being support."
NUS Cymru welcomed the rise in maintenance grants, but said it would not go "into their pockets this academic year".