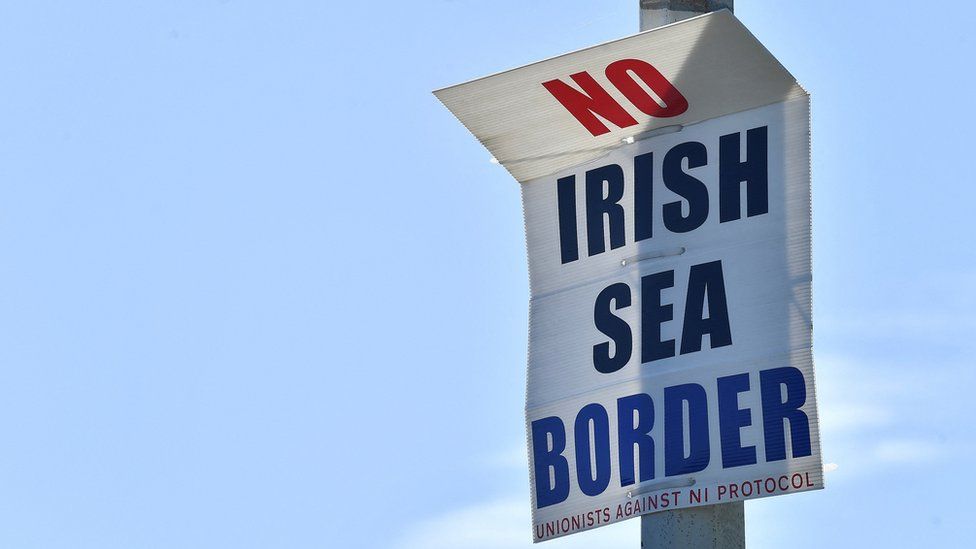 By Jessica Parker
BBC political correspondent
Northern Ireland Protocol talks are in their end stages, according to two sources with knowledge of negotiations.
One suggested a legal text is now being looked at where the final, binding details are nailed down.
However, it is also cautioned there are still things to square off to ensure an agreement is sellable – to EU member states as well as the Democratic Unionist Party (DUP) and Tory MPs.
Downing Street continues to insist that there remains lots of work to do.
The protocol was agreed by the UK and EU in 2019 to ensure free movement of trade across the Irish land border after Brexit.
However, it means there are new checks and controls on goods entering Northern Ireland from Great Britain.
The protocol is opposed by unionists in Northern Ireland, most notably the largest unionist party, the DUP, which is preventing a government from being formed in Northern Ireland as a protest.
Settled on red and green lanes
The language surrounding the talks has become increasingly positive, with striking words from the EU on Friday.
The European Commission Vice-President Maroš Šefčovič, who has led EU negotiations, said the talks had been "hard work" but that it was "time well invested".
It followed a video call between him, Foreign Secretary James Cleverly and Northern Ireland Secretary Chris Heaton-Harris.
Often there are stock phrases that Mr Šefčovič has used after such calls, but that is not one of them.
One source repeated claims that a framework deal has been on Rishi Sunak's desk for some time but that the prime minister was waiting for the right moment to move forward.
All sides are highly aware that a compromise may prove hard to sell to the DUP or the Conservatives' Brexit hard-line European Research Group (ERG), and there are still big question marks over what a potential agreement might look like.
The two sides are believed to have settled on red and green lanes as a method of reducing checks on goods going from Britain to Northern Ireland.
It has been reported that will govern animal health and food safety as well as customs formalities.
On governance, Britain had previously backed down on its demand to remove the European Court of Justice as the final arbiter of the treaty but had still sought options for a more 'arms-length' arrangement.
EU officials have always been extremely clear that the court must have the final say on single-market issues, but there is debate over whether its role could be softened.
'Full range of challenges'
Interestingly, there has been no suggestion that negotiators are rewriting the original treaty – instead, it appears they are seeking to add to or clarify it.
Britain had originally said that the problems with the treaty were "baked in" to the text and therefore it needed a fundamental revision.
If the text is not being significantly rewritten, it is possible that any deal could just be ratified through the protocol's Joint Committee rather than requiring votes in London and Brussels.
The foreign secretary, Mr Cleverly, said on Friday that any agreement must address the "full range of challenges".
That suggests he is against signing up to an agreement that deals comprehensively with some issues – such as customs checks – but leaves open others, such as governance.
One source suggested that while some solutions on the table were durable, others might need longer-term engagement.
Some UK officials have suggested it would be "risky" to take that kind of incremental approach because the EU might not want to come back for further talks, once its main concerns are addressed.
EU officials have also hinted that there had been much more thorough progress in some areas than others but expressed reluctance at the idea of having to keep revisiting any deal in future.
The comprehensiveness of the agreement, therefore, may be an ongoing point of tension.
European diplomats have long warned that the negotiations are a "high-wire" act – a sentiment recently echoed publicly by the European Commission President Ursula von der Leyen.
"You know the principle that everything is only negotiated at the very end – when you know what the result is and you give a final signature," she said.