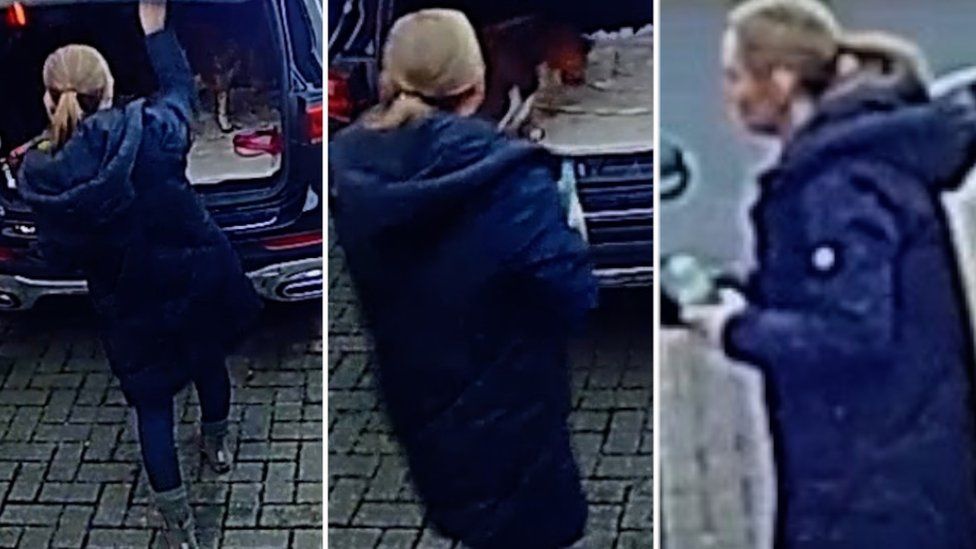 By Danny Savage & Olivia Richwald
BBC News
The first images of Nicola Bulley on the day she went missing while walking her dog have been shared with the BBC by one of her friends.
The 45-year-old was last seen walking next to the River Wyre in St Michael's on Wyre in Lancashire.
Doorbell footage shows her loading her car outside her home on 27 January before driving her two children to school and going for a riverside walk.
Police believe she may have fallen into the river.
Specialist divers have been scouring the River Wyre, while volunteers have joined the search along with mountain rescue, sniffer dogs, drones and police helicopters, but no trace of her has been found.
Ms Bulley's family and friends continue to appeal for information on the ninth day of the search.
She is seen on CCTV wearing a long dark coat, leggings and ankle boots with her hair tied in a ponytail.
Ms Bulley was last seen by another dog walker at about 09:10 GMT.
She had logged on to a work call beforehand.
Her dog and phone – still connected to the Teams call – were found at a riverside bench about 25 minutes later.
Supt Sally Riley, from Lancashire Police, said they were "as sure as we can be that Nicola has not left the area where she was last seen and that very sadly for some reason she has fallen into the water".
She said there was no evidence of "anything untoward" happening to her or any third-party involvement.
Meanwhile, private underwater search and recovery company Specialist Group International (SGI) said it would join the police in its search operation on Monday.
Lancashire Police said SGI's offer to assist in the search was "taken up after speaking with Nicola's family", adding: "We continue to lead an extensive and far reaching multi-agency search using a wide range of specialist equipment and resources."
Detectives have said they were open to new information and criticised the online abuse of people who had been helping their inquiry, calling it "totally unacceptable".
Ms Bulley's disappearance has drawn a lot of attention on social media with thousands of people commenting on the ongoing search, many sending support to her family and wishing her home safely.
But some people have been speculating about what might have happened by discussing the family's finances and relationships.
Ms Bulley's friend Heather Gibbons told BBC North West Tonight "vile" theories being shared online were hurtful for Ms Bulley's family.
"I mean it's human nature – everyone's going to have their thoughts, their theories, everyone will be speculating," she said.
"But to see some of the vile speculation online – some of the theories that are incredibly, incredibly hurtful – I don't think people are realising that the family are sitting at home and are able to access and see all of that."
She said she was concerned that "as [Ms Bulley's daughters] get older, they will be able to look back and they will be able to see everything that was said".
Another friend, Tilly Ann, wrote on Facebook that "inappropriate comments" online had been causing "hurt and distress".
She urged everyone to show the family "as much positivity as possible please".
Supt Sally Riley, of Lancashire Police, told The Sunday Times that officers found "no evidence of a slip or fall" near the bench where Nicola's mobile phone was found but said falling from a sheer riverbank may leave no trace.
Another of Ms Bulley's friends, Luke Sumner, said family and friends were "clinging to any sort of hope", adding: "If it is a case of her being in the river, then chances of survival are probably very slim. But we have no evidence to say that she has gone into the river."