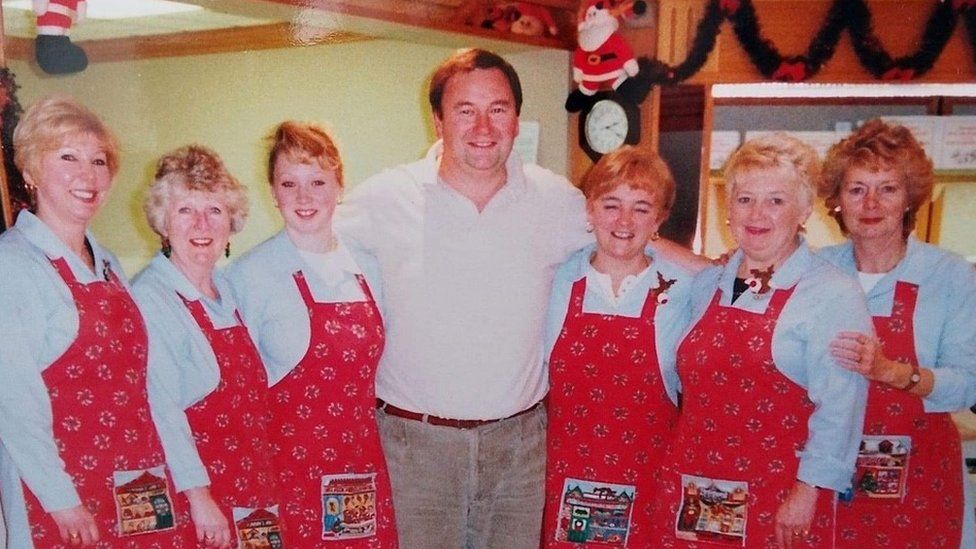 A family bakery established in 1914 will shut its doors for the final time later due to huge energy costs and the price of ingredients.
Noakes bakery in Pontarddulais, near Swansea, cannot continue trading after energy bills soared to an unsustainable level, its owner said.
Paul Noakes, 76, and his family have run the shop for three generations.
He said even though the shop is still very busy, it is "impossible to absorb the increase in energy prices".
Mr Noakes said he felt now was the time for him to retire and spend more time with his family.
However, he said closing the shop made him "very emotional".
"This is a busy, popular shop and always has been, but the costs are too much," he said.
"When I started I worked with my father, and we started about 04:30 in the morning, it was very hard physically."
He added: "Today people complain about flour bags being about 70lbs (31.7kg), but in those days the flour came in huge sacks – 140lbs (63.5kg)."
The bakery is facing price increases in the cost of butter, oil and flour.
Since May 2021, the price of wheat, an essential ingredient for most products in the bakery, has gone up by 165% due to the war in Ukraine.
Manager Paula Thomas started working at the bakery when she left school at 16 and has worked there for 43 years.
"It is going to be a big change in my life. I feel quite emotional, as do all the staff," she said.
"We are really grateful to all our customers, they have helped pay our wages.
"During Covid we had customers who were desperate to get back in to the shop for a coffee, and company."
Bethan Mair lives in the town and is a regular customer.
"It is such an institution in the village. It is something we as children have been brought up with," she said.
"Its a nail in the coffin of the high street in our village and is very sad.
"You lose diversity, choice and employment and you lose companionship. It won't be the same without Noakes."
Emma Thomas owns the neighbouring hairdresser shop.
"I was shocked to hear of the closure," she said.
"I will miss my rolls and especially the bacon from next door.
"It's not just local customers that have kept this shop busy. People have travelled from as far afield as Merthyr to shop here."
As they prepare to bake the last loaf and heat up the final pasties, staff are already planning a reunion.
"I'm really sad for it to be closing", said Paula, wiping back the tears.
"This is all I've ever known really."