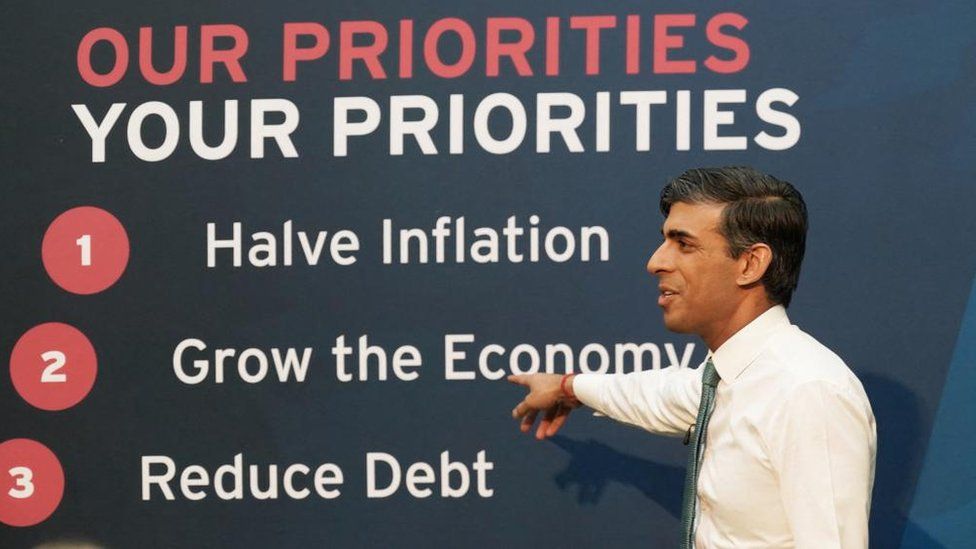 By Laura Kuenssberg
Presenter, Sunday with Laura Kuenssberg
First impressions matter, and the first 100 days for any leader set the terms for success or failure – just ask Liz Truss.
In a few days Rishi Sunak will hit that milestone – so how has he fared?
With time on his hands when he lost last summer's leadership election to Ms Truss, he was more concerned with clocking up a different kind of century – trying out for his local North Yorkshire cricket team.
The team insisted he fight for a place on the pitch.
Sadly for his amateur cricket career, Ms Truss' political operation blew up not long after it began.
So instead of going into bat for the Kirby Sigston first XI, he came to the political crease in the middle of economic and political carnage.
It wasn't just the fever dream of Ms Truss' time in office, but the preceding months and months and months of Conservative meltdown that eventually resulted in the removal of Boris Johnson.
Prime Minister Sunak's first task was to cool the temperature and prove to the financial markets that Britain was not quickly becoming a basket case.
Mr Sunak put the brakes on that slide to chaos. As one senior MP says: "Stability, calm, competence – that was the obvious necessary task, and he has responded well to that."
His backers underline how that could never be taken for granted after the turmoil of the autumn. But one former minister wonders whether, now stability is back, can Mr Sunak "get things done" and "can he win?".
Beyond the immediate economic calamity that had to be avoided, there is war in Europe and the global economy is shaky.
Cash for public services is stretched – and it shows – while the Conservatives have spent years in office, and years scrapping with each other.
One senior MP says: "It's like a car you have driven for many years. Things start to go wrong and you have all that baggage in the back.
"Sunak's jumped in the driving seat at the moment when there are already a lot of bashes on the old banger."
And while Conservative backbenchers are not publicly indulging in the kind of permanent uproar they have done in recent times, scratch the surface and there is still disquiet.
The way that cash for local communities in the latest round of "levelling up" bids was handed out caused a lot of grumpiness.
MPs shared angry local newspaper headlines with each other on WhatsApp, while messages directed at the cabinet minister responsible, Michael Gove – who is on our show this week – talked of "unforced errors" and damage to their electoral chances.
One MP warns "trouble is brewing" over "ministerial competence".
And while MPs praise Mr Sunak's performance at the despatch box, they describe his social media videos as "slippery" and "cringe".
Another senior MP says: "There are lots and lots of colleagues who just think the problems are insurmountable, everything that's stacking up."
On the show this week is Levelling-up Secretary Michael Gove and Labour's shadow education secretary Bridget Phillipson
We'll also hear from US ambassador to the UK Jane Hartley
The panel this Sunday is former EU Brexit negotiator Michel Barnier, general secretary of the National Education Union Mary Bousted and the founder of London's Michaela Community School, Katharine Birbalsingh
Watch live on BBC One and iPlayer from 09:00 GMT
Follow latest updates in text and video on the BBC News website from 08:00
Of course, any party's backbenches are almost constitutionally set up to be in a huff.
But the public's response to the leader is vital. Look at the polls and the prospects for Mr Sunak's government seem dire.
And while he tends to be seen more positively than his party, attitudes towards the PM aren't exactly glowing.
Focus groups commissioned by the Labour Party found voters who backed the Tories in 2019 see Mr Sunak as "a bit fake – like a cardboard cut-out – he doesn't even blink".
Another said: "I can't imagine he's ever been on a waiting list."
On the Conservatives more broadly: "They're just in an absolute mess, it's hard to trust them on anything."
Only three months in, it is simply far too early to make firm conclusions about his prospects of turning the Tories' dire polling around.
"Is he the man for the moment? That's still a million dollar question," one senior MP suggests.
Rishi Sunak's team has no expectation that he'll be able to transform his party's fortunes any time soon. Their plan is for a year of hard graft, hoping to show he can get things done, before focusing on whether he can win.
The prime minister's approach is obvious – take problems a few at a time, guided by what the public tell his political operatives. He tells colleagues: "If you have too many priorities, you have none."
"He's a problem-solver, not a visionary," MPs say, and his backers believe that's what the public wants.
His allies say he methodically dealt with the market meltdown initially, then immigration, and is now looking at the NHS. On Monday he is set to make a big announcement about trying to improve emergency health care.
With so many stories of terrible experiences in the NHS recently, it's not exactly surprising he'll turn to that next, even though he has declined to acknowledge what some health leaders say is a system in crisis.
He also hasn't been able to avoid two other big problems during his first 100 days – strikes and sleaze.
The prime minister is presiding over the biggest wave of industrial action for many years, which this week sees teachers in England and Wales becoming the latest group – after rail workers, nurses and ambulance crews – to go on strike.
"We're working very hard at being reasonable," says one government source involved in dealing with public sector strikes. But union leaders dispute that claim, with those I've spoken to saying they are bemused by what they see as ministers' lack of care and attention.
This week, parents and pupils will feel the effects. Next week, there'll be a mammoth day of action across the health service.
One union leader says of the prime minister: "It's really weird, you just get the feeling they don't understand it's a serious situation – there's a total abdication of leadership."
And to his own frustration, Mr Sunak has not been able to draw a line under the swirling sleaze allegations.
Whether it's the ongoing public unravelling of Mr Johnson's banking arrangements, or that a senior minister appears to have paid an enormous penalty to HMRC while being in charge of it, the whiff of impropriety hasn't cleared completely from Westminster's air.
As one MP says: "He stood on the steps saying he'd restore integrity and here we are."
In 100 days, the prime minister has shown he is deeply serious. He's demonstrated a deep contrast with his two predecessors. He's shown he can choose priorities. And he's brought the curtain down on what felt like years of circus.
But his government is still tangled up in strikes and allegations of sleaze.
The backbenches are outwardly calm but that's not the same as being content. The public show little sign of turning back towards his party.
The problems he wants to solve are complicated.
With possibly 500 days before the next general election, Mr Sunak will need to get through even more tests than he has faced in this first 100.
More from Laura Kuenssberg