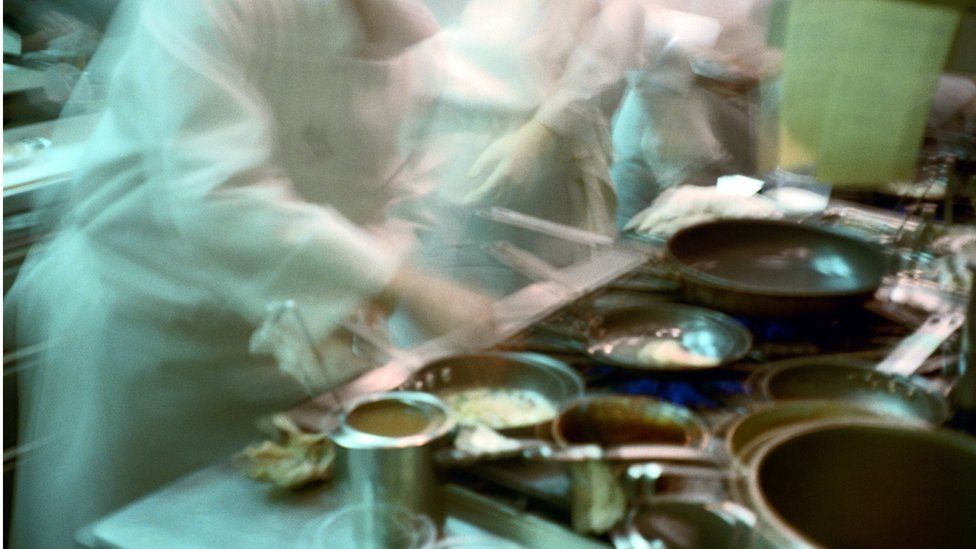 By Jasmine Andersson
BBC News
Chefs working in elite kitchens face "extreme suffering" to produce award-winning food, a new study suggests.
Researchers heard that Michelin Star chefs are sterilising their wounds on hot stoves and plunging their hands into deep-fat fryers to prove themselves at work.
One of them said going on shift felt like "going to war".
However, the study also found that many chefs still see the pain as "a medal of honour".
The research, conducted by Cardiff University and Emlyon Business School in France, is based on the anonymous accounts of 62 Michelin Star chefs working in the UK and abroad.
Many detailed experiencing physical abuse and bullying from the start of their career, with one junior chef describing how he was "locked in fridges, punched, and kicked about".
"At such a young age I was in a position where I felt very lonely. I was really exhausted. I wasn't used to the abuse I was getting," he said.
Some chefs said they were routinely subjected to endurance tests, like peeling "up to 150 fresh langoustines every day with our bare hands."
"That would basically rip your hands to shreds because they're extremely sharp," they added.
Another said food would be thrown in their face if they made mistakes.
That level of pressure led some to having bouts of vomiting and diarrhoea before clocking on shift, with some stints in the kitchen lasting 20 hours.
Another chef described how his boss "picked up his bread knife from the middle of the kitchen and just – had it to my neck in front of everyone."
Following that ordeal, he was then promoted to a three-star Michelin restaurant.
In one instance, a chef gave the researcher a tour of back-stage areas of a restaurant, including rooms where chefs lay sleeping on the floor.
But despite that level of pressure, researchers said that for many, "a body marked by cuts and burns… was something to be celebrated."
The academics said: "For many of our chefs, it was the right kind of body to have – it was the body of a committed, hard-working, tough chef".
Because of this attitude, many continued working even when they were injured.
One chef said: "I stabbed myself between my fingers with a knife many years ago. Blood was pulsing out. I just wrapped it with a tea towel [and carried on]," one said.
Another said burn marks and cuts on their colleagues were taken as "a good indicator that they're working under some sort of pressure".
"I mean, we always turned it around… you gave it some sort of, positive [spin]. You knew the reality was your bloody suffering and it's horrible and horrendous, but you couldn't let it in. You can't do that," they said.
The intense working culture in top kitchens has come under the spotlight in films like The Menu and Boiling Point – both received critical acclaim in their exploration of the fine dining process.
The UK's chef's union, Unichef, told the Guardian the accounts highlighted the need for greater diversity in kitchens – including more women – to help stamp out what it described as a "playground bullying" culture.