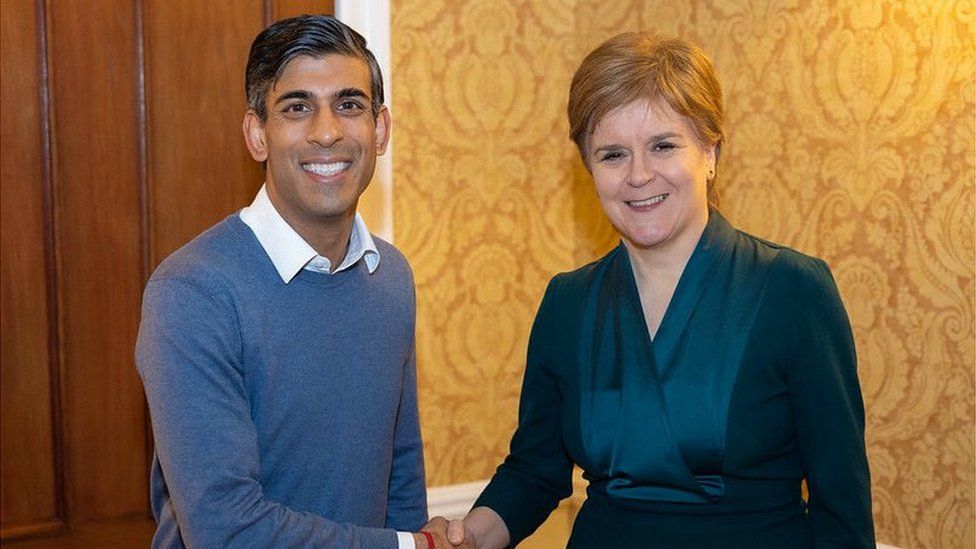 The prime minister and Scotland's first minister have held "cordial" talks at a private meeting in Scotland.
Rishi Sunak and Nicola Sturgeon met at a hotel in Inverness on Thursday night, following a series of engagements by the PM north of the border.
They are understood to have discussed the NHS, the economy and legislation passed in Scotland last month to make it easier to change gender.
There was said to have been a "robust" exchange on Scottish independence.
The creation of two green freeports in Scotland was also discussed. A joint announcement from the UK and Scottish governments is expected on Friday.
The Cromarty and Forth bids are thought to be the favourites to be named, which will see tax incentives being used in a bid to boost investment and economic growth in the two areas.
It is Mr Sunak's first trip to Scotland as prime minister.
Ahead of the meeting, he visited a Sea scouts community group in Muirtown near Inverness, and a Coastguard search and rescue team at Inverness Airport.
Mr Sunak tweeted: "It was great to be in Inverness today meeting rescue services and hearing more about the life-saving work they do every day.
"I also sat down with First Minister Nicola Sturgeon to discuss the challenges we jointly face and how best to deliver for communities across the UK"
Following the talks, which lasted more than an hour, Ms Sturgeon told the BBC they had been "perfectly constructive and cordial".
"Clearly Rishi Sunak and I disagree on lots, but we were able to talk about some of the areas where the Scottish and UK governments can work together," she added.
The First Minister said there was also talk about how they could work together to realise Scotland's "vast" renewable energy potential.
The two political leaders met previously at the British-Irish Council in Blackpool in November.
These discussions included how best to tackle the cost of living crisis, the NHS and Ms Sturgeon's desire for a second Scottish independence referendum.
Mr Sunak's predecessor, Liz Truss, did not have any formal talks with Ms Sturgeon during her brief spell in Downing Street, although they briefly met at a service following the death of the Queen.
Ms Truss had previously described the first minister as an "attention seeker" who was best ignored, during a Tory leadership hustings.
But Mr Sunak has spoken of wanting to "reset" the often fractious relationship between the two governments.
However, there could be a major clash coming between the Scottish and UK governments over Holyrood's gender recognition reform legislation.
The new rules lower the age that people can apply for a gender recognition certificate (GRC) to 16, and removes the need for a medical diagnosis of gender dysphoria.
But the UK government has concerns about the impact of the new law on the rest of the UK and is considering blocking it.
The deadline for an intervention is the middle of next week.
Speaking ahead of the PM's visit, Downing Street said the UK government had not yet decided whether to block the gender recognition legislation.
Asked whether the Mr Sunak has decided whether to use section 35 of the Scotland Act, which would prevent the new laws coming into force, his official spokesman told reporters: "No, there's no decision made on that.
"There is a process to consider it and then he will be given advice to make a decision. That is still taking place".
There is plenty they disagree about but Nicola Sturgeon seems to get on with Rishi Sunak far better than with his two immediate predecessors.
She had next to no relationship with Liz Truss and made no secret of her belief that Boris Johnson was unfit for office.
There is potential for this PM and FM to do some business like their joint announcement on Scottish freeports.
They are much further apart on a range of other things such as energy policy, UK legislation to limit strike action and Scottish government calls for another independence referendum.
Relations could sour significantly if the UK government blocks Scottish reform of the process for legally switching gender.
That came up in their discussions, but these majored on shared challenges like the huge pressures on the NHS.