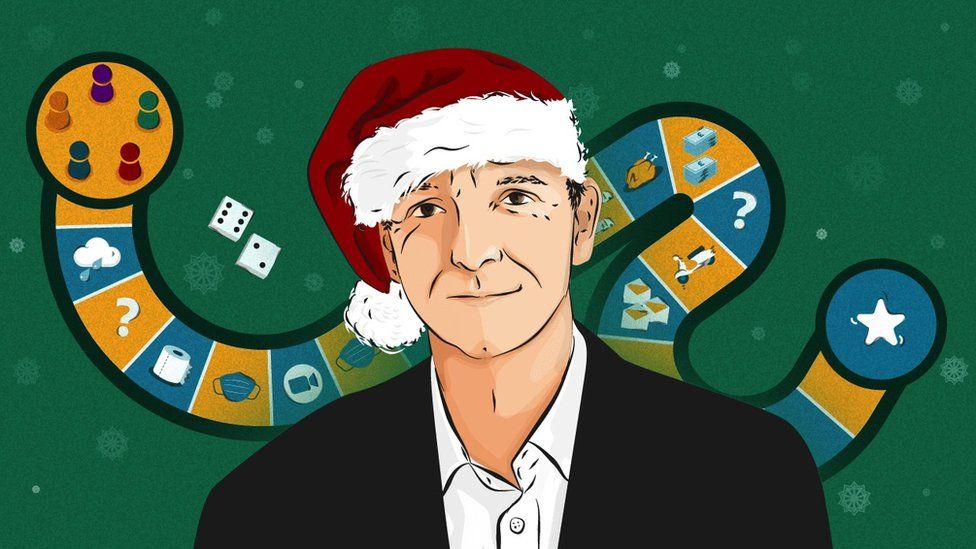 Welcome to the festive quiz in which you simply have to get closer to the answer than anyone else. Now celebrating its 15th glorious year, my Boxing Day Family Puzzler is the perfect accompaniment to cold turkey and mince pies.
The questions relate to events from the extraordinary year we have just had. All the solutions are numbers.
To make it fair, each player/team should write down their guesses before revealing them. One mark for the closest answer and three if by luck or genius you get it spot on. The answers can be found at the bottom of the page.
1. Music fans at this summer's Glastonbury used more data than ever before, up 76% on the previous festival in 2019. The mobile operator EE claimed the data usage was the equivalent of viewing how many Instagram posts?
2. Prince William was spotted selling the Big Issue on the streets of London in June alongside veteran vendor Dave Martin. In under an hour, they sold the number of copies Dave would normally expect to sell in half a week, but how many was it?
3. The art collection of Microsoft co-founder Paul Allen was sold in New York this year, with the proceeds going to charity. In dollars, how much did the sales yield?
4. Modern-day census takers in England and Wales counted the births of 148 girls named Mary and 1,307 boys called Joseph in annual figures published in October. But how many baby Jesuses were there?
5. The Uefa Women's Euros football tournament held in Italy in 1993 drew a reported total of 11,500 spectators. What was the overall attendance at this year's Women's Euros in England this summer?
6. In May this year, the final and long-awaited Sue Gray report into "alleged gatherings on government premises" (also known as Partygate) was published. How many references to "alcohol" were included in her report?
7. Sam Downie and Rosemary Lenton both made their debuts for Scotland at the Commonwealth Games this year. How many years apart were they born?
8. Shirburn Model Farm in Oxfordshire made history on 19 July this year by setting the highest daily minimum temperature ever recorded in the UK. What was the temperature in Celsius there at 04:32 BST that day?
9. According to census data published this year, how many people who explicitly described their identity as Cornish live in Devon?
10. Student George Scholey, from Northampton, broke the world record for completing the most Rubik's cubes in 24 hours. How many was it?
11. According to data firm Mintec's UK Christmas Dinner Index, what is the percentage increase in the cost of traditional turkey and trimmings since last year (estimate made at the end of November)?
12. Actor William Russell appeared in the Dr Who episode The Power of the Doctor in October. He played Ian Chesterton, a character who had appeared in 77 previous episodes. How long was the gap between William's 2022 appearance and his previous one?
13. The number of people identifying as pagans in County Durham increased between the censuses in 2011 and 2021. According to results published this year, how many more pagans are there now?
14. It is estimated there are now 9.2 million monthly active users of TikTok in the UK. According to industry analysts eMarketer, how many minutes does the average UK user spend on the platform each day?
15. The Wagatha Christie trial in the summer saw Rebekah Vardy lose her libel claim against Colleen Rooney. The judge ordered her to pay 90% of Mrs Rooney's legal fees. How much did she have to hand over to her rival?
16. Ukraine won the Eurovision Song Contest in May with a song performed by the Kalush Orchestra. The group decided to sell its Eurovision trophy and front man Oleh Psuik's pink hat to raise money for the Ukrainian army. For how much were they bought, in euros?
17. According to entertainment news provider Deadline, how many people in the UK watched at least three minutes of the Queen's funeral in September this year?
18. Boxing Day is about turtle doves, according to the carol. In the 1970s, an estimated 125,000 turtle dove pairs bred in the UK with flocks of more than 500 birds. According to a conservation study this summer, how many pairs bred here last year?
19. Sorry, they say, is the hardest word. How many times did Prime Minister Boris Johnson use the S-word in the House of Commons when the Sue Gray interim report was published in January?
20. The FBI raided Donald Trump's Mar-a-Lago home in Florida in August. How many Top Secret documents did an inventory suggest were among the 11,000 files seized?
1. 7.2 billion; 2. 32; 3. $1,622,249,500 ($1.3bn); 4. 3; 5. 574,865; 6. 26; 7. 57; 8. 26.8C, 9. 1,290; 10. 6,931; 11. 28.6%; 12. 57 years and 120 days; 13. 346; 14. 49; 15. £1,667,860; 16. €1.18m (£1m); 17. 37.5 million; 18. 2,100; 19. 7; 20. 18