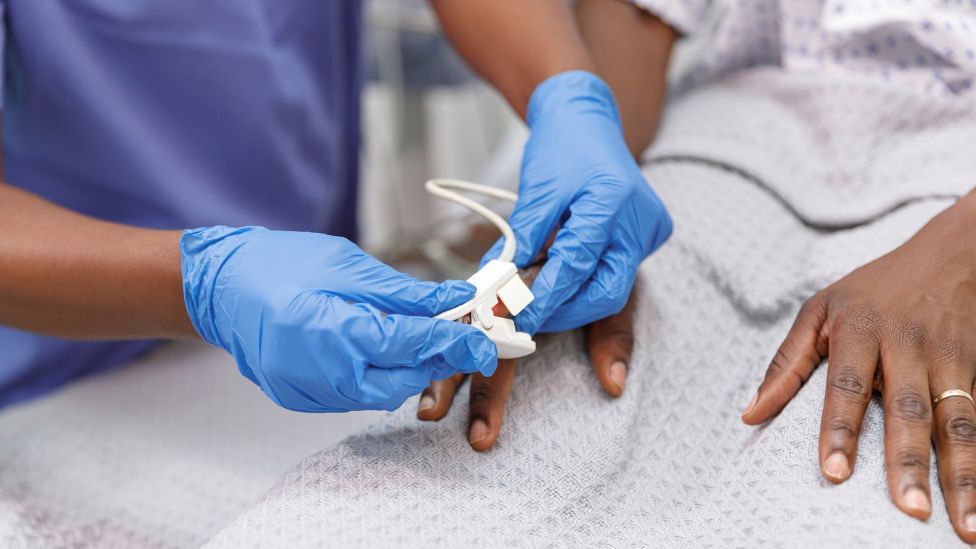 Nurses in Scotland are set to strike after voting down the latest pay offer for NHS workers.
Royal College of Nursing (RCN) Scotland members rejected an average increase of 7.5%. The union said it was planning for industrial action and would announce dates early next year.
Health Secretary Humza Yousaf said he was disappointed but would continue negotiations with unions.
In the RCN ballot that closed on Monday, 82% voted against the offer.
The union, which has more than 30,000 NHS members in Scotland, had asked for an increase of at least 5% above inflation – which is currently 10.7%.
Julie Lamberth, RCN Scotland board chair, said nurses had "forcefully rejected" the deal.
She added: "Make no mistake – we do not want to go on strike. Years of being undervalued and understaffed have left us feeling we have been left with no option because enough is enough.
"The ball is in Scottish government's court if strike action is going to be avoided."
Last month, ministers tabled an improved pay offer averaging 7.5% to health workers threatening industrial action.
Annual salary rises under the proposal would range from a flat rate payment of £2,205 for staff in Bands 1 to 4 and up to £2,660 for staff in Bands 5 to 7, backdated to April.
This represents an increase of 11.3% for the lowest paid workers and delivers an average uplift of 7.5%.
Unite and Unison chose to accept the deal, however, the GMB union became the first to reject it last week.
'No other option'
The deal was also rejected by 65% of midwives who voted in the RCM ballot. The union, which has about 3,000 members in Scotland, said it was considering industrial action.
Jaki Lambert, RCM director for Scotland, said: "Our members have spoken loud and clear – the latest pay offer by the Scottish government is simply not good enough. It goes nowhere near addressing the rising cost of living and would see many midwives actually worse off in real terms.
"Our members have been consistent throughout this process – they want a decent deal, and they are prepared to take industrial action to get one.
"No midwife wants to do this and it is for the Scottish government to make sure that they do not feel that they are left with no other option."
The rejection of this pay offer by such a high proportion of RCN members will be a real blow for the Scottish government, which had billed it as the best and highest offer in the UK.
It will also be disappointing for First Minister Nicola Sturgeon after she had personally intervened, meeting nursing leaders to see if there was anything that could be done to get this deal over the line.
It now leaves a complicated picture here in Scotland because some other unions, including Unison, who also represent some of the nursing workforce, have accepted the offer. Others like GMB, who represent ambulance staff, have turned it down.
I'm told there is a willingness on all sides to get back round the table and see if any more can be done, but it is hard to see where such negotiations can go.
Strikes in the new year are still not inevitable, but it they are growing ever more likely.
Humza Yousaf said the government had made its "best and final pay offer" to NHS staff.
The health secretary said: "While I am naturally disappointed the Royal College of Midwives and the Royal College of Nursing have rejected this offer, I respect the voice of their membership.
"We have engaged tirelessly with trade union representatives over recent weeks and months, leaving no stone unturned to reach a record pay offer which responds to the key concerns of staff across the service."
The minister said he would be meeting with trade unions on Thursday to continue "meaningful dialogue".
He added: "We are making this offer at a time of extraordinary financial challenges to the Scottish government to get money into the pockets of hard working staff and to avoid industrial action, in what is already going to be an incredibly challenging winter.
"Constructive engagement is crucial, those unions who have rejected our pay offer have all said they want to avoid industrial action, we must collectively work toward avoiding strikes taking place this winter at a time of already significant pressure for our NHS."
Scottish Conservative health spokesperson, Dr Sandesh Gulhane, called on Mr Yousaf to "immediately get back round the table" with the RCN to prevent strike action going ahead.
He said: "Scotland's NHS is on its knees due to the health secretary's mismanagement, so the last thing it can afford going into the peak winter period is industrial action."
Scottish Labour health spokesperson Jackie Baillie said the health secretary should step down.
She said: "Under the SNP, Scotland's heroic nursing staff have been pushed to breaking point. We are already in the midst of a full-blown winter crisis, with lives being risked on a daily basis.
"It's time that Humza Yousaf does the right thing and resigns."
And Scottish Liberal Democrat leader Alex Cole-Hamilton said: "Nurses have gone above and beyond in recent years to keep all of us safe. They need a proper pay deal, better working conditions and safe staffing levels.
"Scottish ministers clapped for our NHS, now they need to get their hands in their pockets."