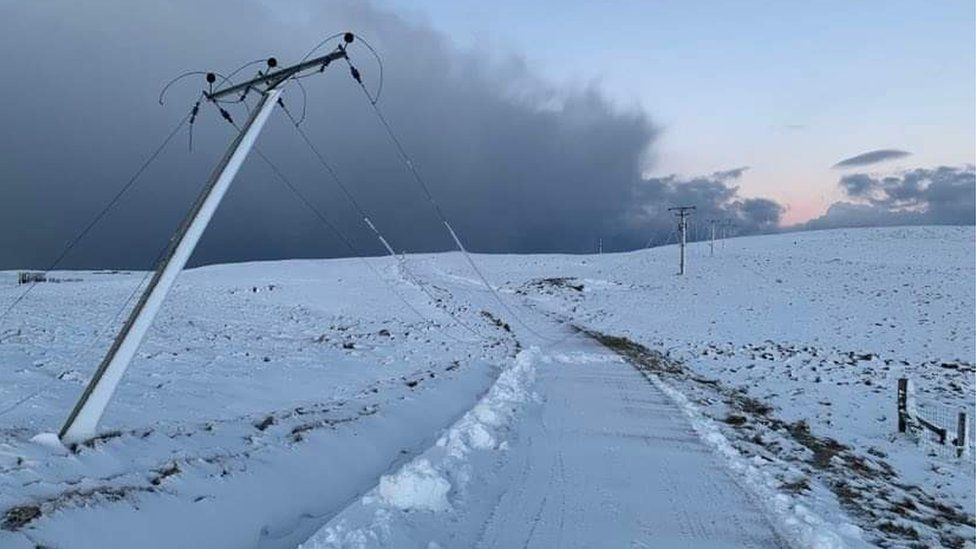 By Laura Gozzi & Jasmine Andersson
BBC News
Yellow warnings for snow and ice have been extended as cold weather continues to cause disruption across the UK.
The new alert for northern Scotland and north-east England could mean fresh snowfalls in those areas.
Motorists relying on cars during this week's rail strikes have been urged to "plan, prepare and consider" before setting off.
Energy firm SSEN Distribution warned that many homes there will be without power until the end of the week as engineers face "extremely challenging conditions".
Shetland has been issued with an additional yellow weather warning with gusts of up to 65mph forecast for some parts.
Yellow warnings covering London, the south-east and south-west of England will remain in place until 10:00 GMT on Wednesday.
A band of rain moving in from the south-west of England may turn into snow as it reaches land overnight – the Met Office says that region could see up to 10cms of snow on higher ground such as Dartmoor and Exmoor.
Warnings for ice in Northern Ireland, the East Midlands and Yorkshire and Humber are set to end on Wednesday at noon.
The extended Level 3 cold weather alert issued by the UK Health Security Agency (UKHSA) covers all of England and is now in place until 09:00 GMT on Friday, 16 December.
As a result of that alert, people are advised to look out for friends and family who may be vulnerable, and ensure they have access to warm food and drinks and can heat their homes adequately.
Temperatures fell to a low of -17.3C (0.8F) in the early hours of Tuesday in Braemar in the Scottish Highlands – making it the UK's coldest night since February 2021.
Braemar looks set to be the coldest spot in the UK for a third night running with temperatures as low as -10°C. Forecasters says strengthening winds across Scotland may prevent temperatures falling as low as previous nights.
Only around 20% of rail services ran on Tuesday as members of the RMT union walked out over pay and conditions. Further strike action is expected on Wednesday, Friday and Saturday of this week.
This means many people will choose to drive to make the kind of journey they would normally do by rail – but in significantly more treacherous conditions than usual due to the cold weather.
Rod Dennis from the RAC said the service has been experiencing record demand from drivers – he described Monday as the "worst-ever winter breakdown cocktail" with around 12,000 drivers needing help, the equivalent of eight every minute.
He added that Tuesday "remains an incredibly demanding day for our patrols" because more drivers are on the road due to the rail strikes.
The drivers had left their cars after switching them on to let the heaters defrost windows.
How to drive safely on ice or in the snow
Plan your journey in advance, avoiding areas prone to flooding and ice
Leave time to clear car windows, mirrors, lights and the top of your roof of snow before setting off
Pack an emergency breakdown kit with the likes of a phone charger, food, drink, a blanket to keep you warm, a de-icer and a hi-vis vest in case you break down
Accelerate gently, use low revs and change gear as quickly as possible
Move off in second gear to reduce the risk of slipping
Leave as much as 10 times the usual amount between you and other cars
Brake before you turn the steering wheel when approaching a bend
If you encounter a skid, steer gently in that direction
Do not drive in the wheel tracks of other cars if the road as not been gritted
Keep your speed significantly down to navigate icy roads
Go into a higher gear to keep a grip on the ice to keep traction
Find out the weather forecast for your area, with an hourly breakdown and a 14-day lookahead, by downloading the BBC Weather app: Apple – Android – Amazon
The BBC Weather app is only available to download in the UK.