England manager Gareth Southgate says he is "conflicted" about his future, having "found large parts of the last 18 months difficult".
Southgate's side were knocked out of the 2022 World Cup on Saturday, losing 2-1 to France in the quarter-finals.
Afterwards, he said he would "review and reflect" before deciding whether to carry on in the role.
"I don't want to be four, five months down the line thinking I've made the wrong call," added the 52-year-old.
"It's too important for everybody to get that wrong."
Southgate, who was appointed in October 2016, led England to the 2018 World Cup semi-finals and a first European Championship final in 2021.
He has won six knockout games in major tournaments as Three Lions boss – the same number as England won in the 48 years before he took charge.
Manager

Played

W

D

L

Gareth Southgate

19

11

4

4

Sir Bobby Robson

15

5

4

6

Sven-Goran Eriksson

14

7

5

2

Sir Walter Winterbottom

14

3

5

6

Sir Alf Ramsey

12

8

1

3

Roy Hodgson

11

3

5

3

Ronald Greenwood

8

4

3

1

Terry Venables

5

2

3

0

Glenn Hoddle

4

2

1

1

Fabio Capello

4

1

2

1

Kevin Keegan

3

1

0

2

Graham Taylor

3

0

2

1
However, England went into the Qatar World Cup on the back of relegation from their Nations League group after three defeats and three draws.
One of those losses was a 4-0 defeat by Hungary in June at Molineux, during which England fans chanted at the manager: "You don't know what you're doing."
"I've found large parts of the last 18 months difficult," said Southgate, who has a contract until December 2024.
"For everything that I've loved about the last few weeks, I still have how things have been for 18 months – what's been said and what's been written, the night at Wolves.
"There are lots of things in my head that are really conflicted at the moment, so what I want to make sure, if it's the right thing to stay, is that I've definitely got the energy to do that."
Southgate has won 49 of his 81 games in charge of England, with Saturday's loss to France being his 14th. His win rate of 60.49% ranks him fourth among England managers.
His side suffered a 2-1 defeat by Croatia in the last four of the 2018 World Cup in Russia after leading 1-0, and England were beaten on penalties by Italy in the Euro 2020 final, after also leading that match through an early Luke Shaw goal.
"When I've been through the past few tournaments, my emotions have been difficult to really think through properly in those following few weeks," added Southgate.
"It took so much energy out of you and you have so much going through your mind.
"I want to make the right decision either way because it has to be the right one to go again, or the right one not to go again – and I don't think tonight is the time to make a decision like that.
"Neither are the next few days really."
Speaking on BBC Radio 5 Live's Monday Night Club, former Premier League striker Chris Sutton said: "He [Southgate] is quite entitled to take his time and mull things over.
"It was a difficult few months going into the World Cup. Expectations weren't too high after the Nations League results, and possibly Gareth has been surprised by the level of performance by England.
"I just wonder if he feels the team is still making progress and he can achieve something. Going into the tournament I'm not so sure he would've been thinking that."

Analysis
BBC sports editor Dan Roan in Doha
Gareth Southgate has breathed new life into England since taking over, and having looked like genuine contenders in Qatar, they now seem close to ending their long wait for a major trophy.
With several of the squad still to hit their peak, along with the strong culture and spirit he has helped to develop, Southgate may feel he has unfinished business at the next Euros at least. The FA, his players and the majority of fans want him to stay, and that support may prove decisive when he considers what to do.
And yet it would not be a surprise if Southgate feels he has taken the side as far as he can and walks away.
The manager has always spoken impressively when asked to comment on issues such as racism and human rights, but perhaps the expectations, responsibilities and pressure that accompany one of the highest-profile and most scrutinised jobs in football has taken a toll. And the criticism of some fans as the team's form slumped earlier this year clearly had an impact.
Southgate has been at the FA for more than a decade now and while his stock is high, and after a well-earned break, maybe he could be temped by an opportunity to prove a point and return to club management, perhaps in the US or Europe, if not England.
If he does decide to resign, he will always be remembered as the man who revitalised the national team after years of under-achievement, but who did not quite manage to lead it over that final hurdle to silverware. And whoever replaced him would inherit one of the most exciting and promising squads England has seen. Whatever he decides to do, English football has much to thank him for.

Players and pundits back Southgate
In the aftermath of England's World Cup exit, Southgate's players backed their manager with midfielder Declan Rice saying he hoped he continued in the job.
"I really hope he stays because the core group that we've got, and what he's made for us, it's so special to be a part of," said Rice.
"I love playing under him and I love playing for England."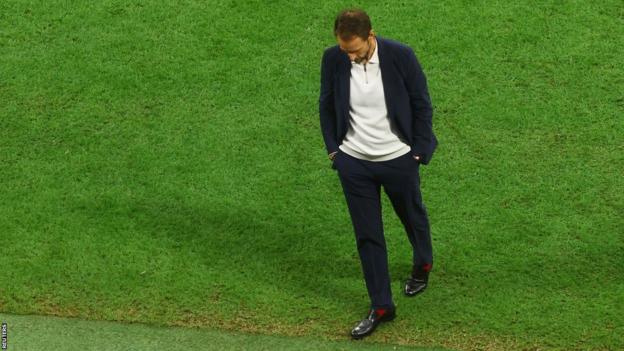 Centre-back Harry Maguire said Southgate had been "amazing", while former England captain Alan Shearer said in his BBC Sport column that the manager should stay because he has "unfinished business".
In their role as ITV pundits, ex-England internationals Gary Neville and Ian Wright, along with former Republic of Ireland captain Roy Keane, unanimously agreed they would like to see Southgate continue, while BBC pundits Martin Keown and Jermaine Jenas, also both former England players, said he "100%" should carry on.
Rio Ferdinand, speaking on his YouTube channel, said a previously "pitch-perfect" Southgate had "let us down" with his substitutions against France, but added that he should not leave the role because "this story hasn't had an ending yet".
Former Football Association chairman Greg Dyke, who in 2013 set England the target of reaching the semi-finals of Euro 2020 and winning the 2022 World Cup, said the governing body "should be doing everything they can to encourage Southgate to stay".
"He has brought sanity to it [the role]," Dyke told BBC Sport.
"He has brought a lot of young players in. Half that team will be in for the next four or eight years. Obviously they respect and like him so he would be the best person to lead them I think."
Asked about England missing his target, he said: "Well it is a failure in that they didn't win it and that was the target we set. But in truth they were so close."

Get the latest results and goal notifications for any team at the Fifa World Cup by downloading the BBC Sport app: Apple – Android – Amazon


Get your daily dose of Fifa World Cup reaction, debate & analysis with World Cup Daily on BBC Sounds