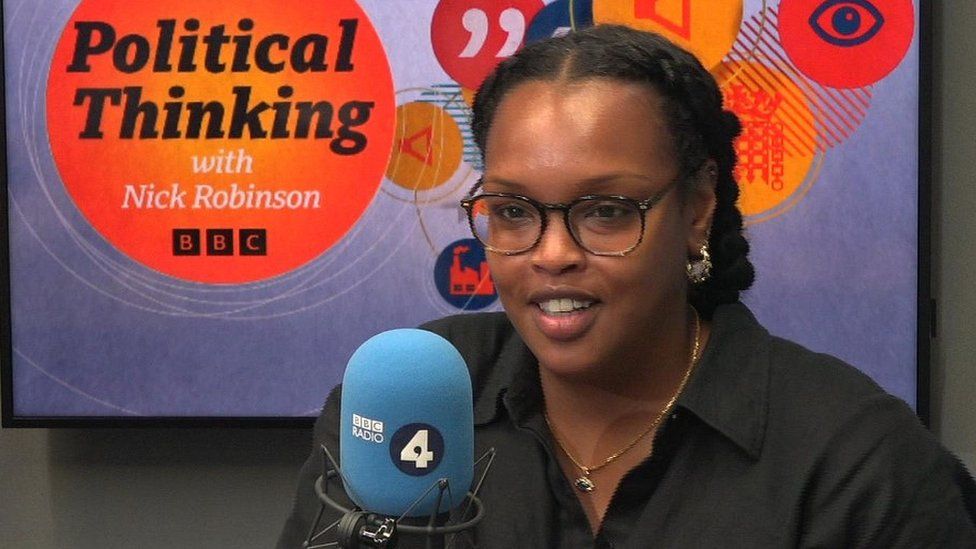 The government's independent adviser on violence against women has said she does not want to serve under Suella Braverman and will not continue.
On live radio, Nimco Ali said she was on a "completely different planet" to the home secretary when it came to women's rights and ethnic minorities.
Ms Ali was appointed when her friend Boris Johnson was prime minister.
A source close to the home secretary said Ms Ali's contract was coming to an end before Christmas.
They added: "The home secretary is determined to make our streets and homes safer for women and girls.
"She will continue to focus on this policy and the rights of women and girls to live safely in our country."
The Home Office said they had not received any formal resignation and were therefore not commenting.
Ms Ali was being interviewed on Times Radio when she said she would not "feel comfortable in serving under Suella".
"Suella and I are on completely different planets when it comes to the rights of women and girls and also the way that we talk about ethnic minorities," she said.
Ms Ali said Ms Braverman had different approaches to "people like me who are from a refugee background".
She also questioned if the home secretary shared her "feminist ideals".
When pressed on whether she would remain as an adviser, she said "ultimately no, I'm not going to continue".
Ms Ali had a major role in preparing the ground work for the bill and led a consultation into making street harassment a specific crime while serving under former home secretary Priti Patel.
Ms Ali was appointed to her role by Ms Patel in October 2020.
The BBC understands there has been no decision about appointing someone else to the role of Independent Adviser on Tackling Violence Against Women and Girls.
Labour's shadow home secretary Yvette Cooper called Ms Ali's decision "damning for Suella Braverman".
Ms Cooper said: "Those around her clearly don't think she's capable of doing the job.
"It shows how weak Rishi Sunak was to appoint her. More chaos at the heart of this Tory government."
An ally of Ms Braverman indicated she had not met Ms Ali in her three months as home secretary.