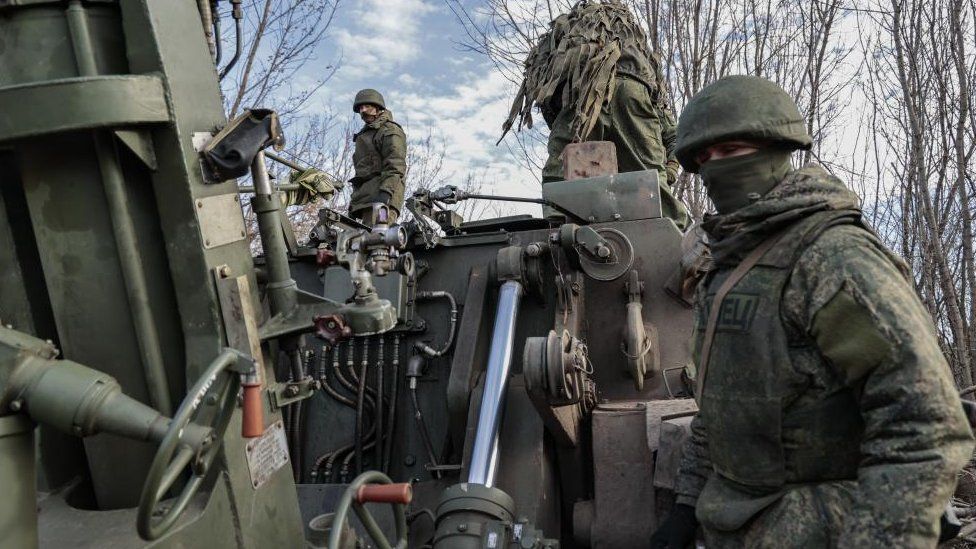 By Emily McGarvey
BBC News
The fighting in Ukraine has been slowing down and this will likely continue in the coming winter months, US intelligence agencies believe.
However, there has been no evidence of fading resistance on the part of Ukrainian forces, US director of intelligence Avril Haines said.
She said both sides would try to "refit, resupply and reconstitute" for any counter-offensive in the spring.
The war in Ukraine is now in its ninth month but Russia has lost more than half the land it seized.
Ms Haines told a defence forum in California that most of the fighting is currently around the Bakhmut and Donetsk region of eastern Ukraine.
"We're seeing a kind of a reduced tempo already of the conflict… and we expect that's likely to be what we see in the coming months," she said.
She said both Ukraine and Russian militaries would be looking to prepare for any counter-offensive after the winter.
"But we actually have a fair amount of scepticism as to whether or not the Russians will be, in fact, prepared to do that," she said.
"I think more optimistically for the Ukrainians in that time frame."
Ms Haines said US intelligence believes Russian President Vladimir Putin does not have a full picture at this stage of just how challenged his military are.
"We see shortages of ammunition, for morale, supply issues, logistics, a whole series of concerns that they're facing."
However, analysts at the Institute for the Study of War (ISW) painted a different picture in a daily review, questioning whether the freezing conditions could permit "a higher pace of operations as winter sets in".
The institute cited comments by Serhiy Haidai, Ukraine's regional governor in Luhansk, who observed that the weather in the eastern Donbas region was changing as winter conditions set in.
Previously, the ISW had asserted that operations in the Donbas were unlikely to slow down as freezing conditions created "the most optimal times of year for mechanised manoeuvre warfare".
Kremlin spokesman Dmitry Peskov said that Moscow had prepared for the move but would not sell its oil under the cap.
At a virtual meeting on Sunday, a group of the world's top oil-producing countries is expected to stick to its oil output targets.
The move angered the United States and other Western nations with Washington accusing the group of siding with Russia.
Since October, oil prices have declined due to slower global growth and higher interest rates. Opec sources say the group is likely to approve a policy rollover.
Meanwhile, Ukraine's security service said the government in Kyiv is imposing sanctions against 10 senior Orthodox Church figures it accuses of having supported Russia's invasion.
The sanctions, which will freeze their assets for five years, are the latest moves by the Ukrainian government against religious groups seen as potentially subversive.