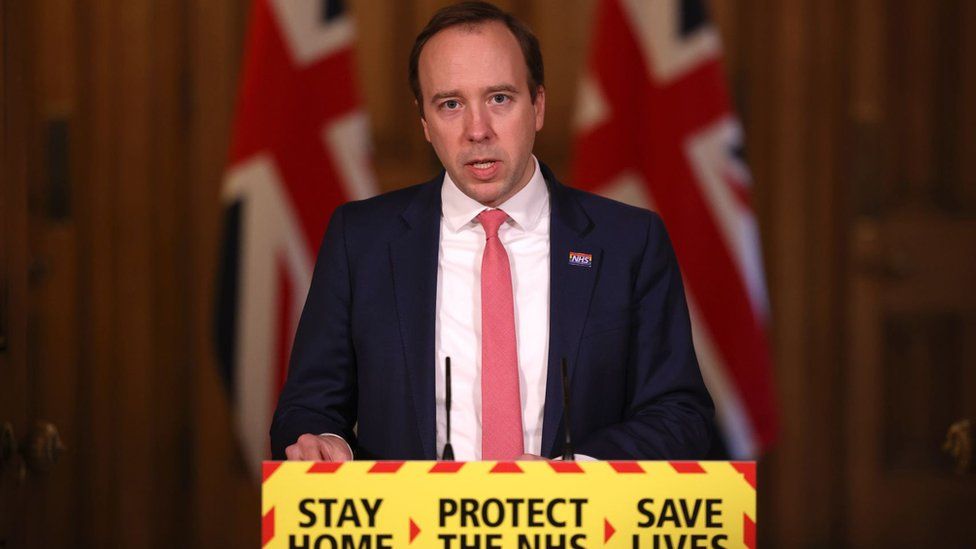 By Jasmine Andersson
BBC News
Former Health Secretary Matt Hancock says he was warned 820,000 people in the UK could die from Covid two months before the country went into lockdown.
In his new diaries on the pandemic, the MP says in January 2020 he was told by England's chief medical officer the toll was "a reasonable case scenario" if restrictions were not introduced.
In his new book, Mr Hancock says that when he mentioned the projected death toll to other cabinet ministers, their reaction was "somewhat 'shrug shrug' – essentially because they didn't really believe it".
He wrote: "I am constantly feeling that others, who aren't focused on this every day, are weeks behind what's going on."
He said that 11 days later, England's chief medical officer Sir Chris Whitty also warned transmission would be so high that "almost everyone would catch it".
Mr Hancock wrote: "In his characteristically understated way, sitting at the back peeling a tangerine, Chris Whitty quietly informed everyone that in the reasonable worst-case scenario as many as 820,000 people in the UK may die…. The whole room froze. We are looking at a human catastrophe on a scale not seen here for a century."
Mr Hancock's Pandemic Diaries: The Inside Story Of Britain's Battle Against Covid, is being serialised in the Daily Mail, with the West Suffolk MP set to donate all proceeds to NHS charities and causes supporting dyslexia.
Mr Hancock was criticised by MPs for his three-week stint in the jungle, where he placed third.
He was suspended from the parliamentary Conservative Party after joining the show, and now sits as an independent MP.
In the book, the former health secretary also defended his handling of one of the most controversial episodes of the pandemic – the decision to release care home residents from hospital without testing, which was blamed for thousands of deaths.
A diary entry on 2 April 2020, notes: "The tragic but honest truth is we don't have enough testing capacity to check anyway. It's an utter nightmare, but it's the reality."