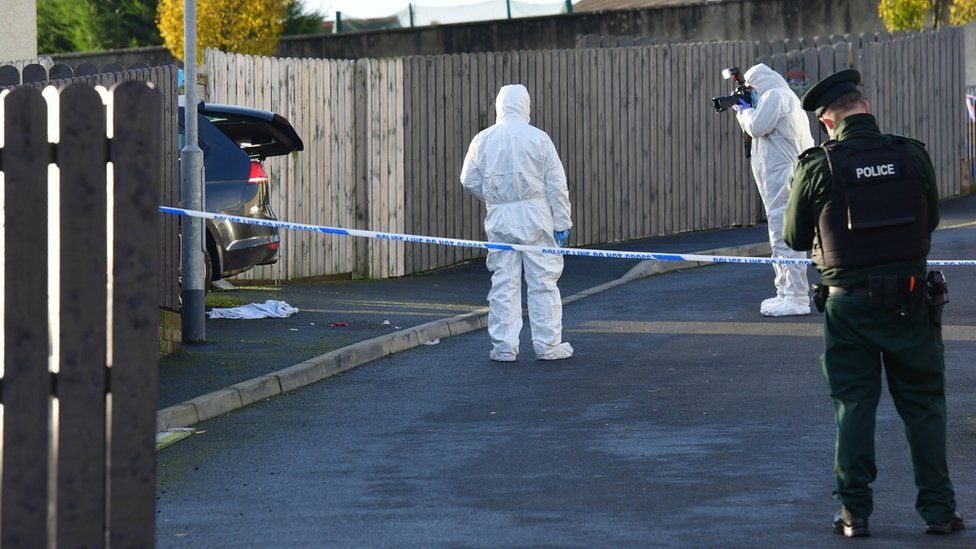 A 58-year-old man killed in Newry was shot number of times at close range as part of a possible feud, police say.
The shooting occurred in Ardcarn Park, a residential area, shortly after 18:00 GMT on Thursday.
The victim was pronounced dead at the scene. His name has not been released.
Police say one line of inquiry is that the shooting was part of a cross-border crime feud, possibly involving drugs, and a murder investigation has been launched.
The killing was a "brutal and a senseless attack on a defenceless man", Supt Norman Haslett said on Friday.
He said the 58-year-old victim, who was a husband and father, crashed his car into a nearby property after the attack.
Earlier reports suggest the victim was shot a number of times as he stood behind his car.
At the scene: Kelly Bonner, BBC News NI
Shocking and brutal – that's how this killing has been described.
Neighbours describe hearing what they thought was fireworks going off, only to realise someone had been killed outside their door.
Police and forensics remain at the scene trying to establish what happened here.
Local politicians have roundly condemned the attack and urged anyone with any information to get in contact with the police.
SDLP councillor for the area Michael Savage denounced what he called "a reckless act… when families would have been about".
Sinn Féin assembly member Liz Kimmins said: "This was a very brutal killing and a family have now been left grieving and the community left very, very frightened.
"It's just horrendous news. There's just absolutely no room for this type of criminality on our streets and those responsible have nothing to offer."
Ulster Unionist leader Doug Beattie described the murder as terrible.
"More guns on our streets, more victims, more families grieving. Senseless, just senseless," he tweeted.
Alliance Policing Board member Nuala McAllister said: "This is a call back to the dark old days and we cannot allow those who want to drag us back to the past to do so."