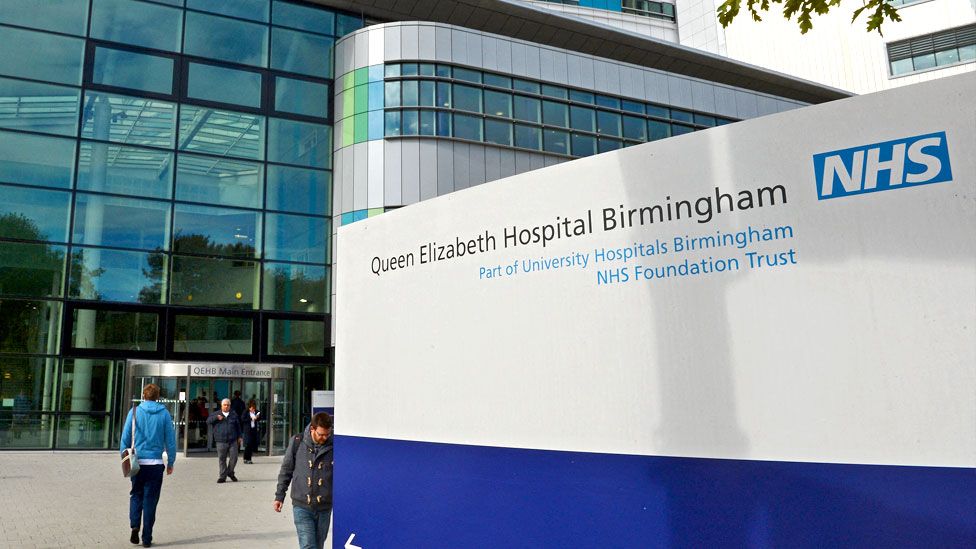 By David Grossman and William McLennan
BBC Newsnight
Whistleblowers at one of England's worst performing hospital trusts have said a climate of fear among staff is putting patients at risk.
Former and current clinicians at University Hospitals Birmingham (UHB) NHS Trust allege they were punished by management for raising safety concerns, a BBC Newsnight investigation found.
One insider said the trust was "a bit like the mafia".
The trust said it took "patient safety very seriously".
It said it had a "high reporting culture of incidents" to ensure accountability and learning.
Staff concerns included a dangerous shortage of nurses and a lack of communication leading to some haematology patients dying without receiving treatment, an investigation by BBC Newsnight and BBC West Midlands found.
The trust – which is rated "requires improvement" by healthcare regulator the Care Quality Commission – is one of the largest in the UK, with four hospitals serving more than two million patients a year.
The deaths of 20 patients in the haematology department of the Queen Elizabeth Hospital, which is run by the trust, led to a review in 2017 by consultant Emmanouil Nikolousis.
Mr Nikolousis, who left the trust in 2020, told the BBC he was shocked by the failings he found and believes patients' lives could have been saved.
A report by Mr Nikolousis criticised a lack of "ownership" of patients and a lack of communication among senior clinicians. In some cases this led to patients dying without having received treatment, he said.
"Certainly there should have been different actions done," he said. "They could be saved. Certainly, when you don't have an action done, then you don't really know the outcome."
"All these diseases in haematology, they're highly complex…they require immediate management and they require ownership of the patient. And quite a lot of times they require coordination of the teams, and that certainly hasn't happened."
Mr Nikolousis said he felt he had no option but to quit after his findings were ignored and his position was made "untenable". He left the NHS after 18 years.
"They were trying, as they did with other colleagues, to completely sort of ruin your career," he said.
Another clinician, who the BBC has agreed not to identify, said when they and other consultants raised safety concerns they would be "punished quite quickly and quite harshly".
"They will make all kinds of spurious investigations and they will try to intimidate you that way," the whistleblower said.
In the past decade, the trust has referred 26 of its doctors to the General Medical Council, which can investigate a doctor's fitness to practise, a Freedom of Information Act request by an NHS safety campaigner found. In all cases the GMC took no further action.
Eye surgeon Tristan Reuser was referred to the GMC in 2017, several months after raising concerns about a lack of nurses to support operations at the Heart of England NHS Trust, which merged with UHB in 2018. On one occasion he needed to perform emergency eye surgery, but there were no nurses to help and he resorted to using an untrained, non-clinical staff member to assist the procedure.
He said that whistleblowers were subjected to "victimisation and retribution using GMC referrals".
"I think my case particularly, I have no doubt that that was true," he said.
"If you criticise senior management, they'll have you."
The GMC took no further action against Mr Reuser, but issued a formal warning against the hospital's medical director David Rosser for not telling them the eye surgeon was a whistleblower. It said his conduct risked "bringing the profession into disrepute and it must not be repeated". Mr Rosser is now chief executive of UHB. He is due to stand down at the end of the year for another NHS role in the region.
Mr Reuser won an employment tribunal for wrongful dismissal.
Although the tribunal found that Mr Reuser was unfairly dismissed, the trust told the BBC that the tribunal did not support his claim that he was dismissed because of his whistleblowing and pointed to other whistleblowing doctors against whom they say no action was taken.
Mr Reuser said he remains worried that patients would suffer if senior management did not listen to criticism about safety issues.
"Somebody has to speak up on behalf of the patients," he said. "I felt a moral obligation to speak out about this, because what happens in Birmingham, what happens to Birmingham patients is just shocking."
In the 12 months from April 2020, there were 12 "never events" – serious safety incidents which should never happen if proper safety procedures are correctly implemented. That was the highest figure in the country for the period. The number fell to four in the following 12-month period.
The trust said: "All patient safety concerns and incidents are rigorously investigated to prevent harm to our patients."
It said there were well-established routes and support in place for staff to raise concerns, and it promoted and encouraged this.
Additional reporting by Michele Paduano, Sean Clare, Charlotte Rowles and Emily O'Sullivan.
Please include a contact number if you are willing to speak to a BBC journalist. You can also get in touch in the following ways:
If you are reading this page and can't see the form you can email us at HaveYourSay@bbc.co.uk. Please include your name, age and location with any submission.