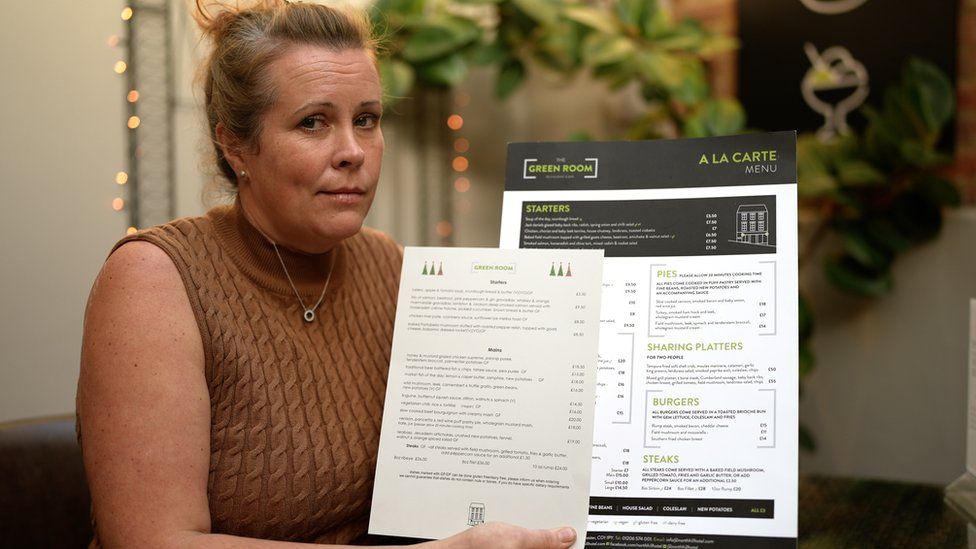 By Noor Nanji
Business reporter, BBC News
"We've had to slash our menu just to survive," says Claire Riddleston, manager of the Green Room restaurant in Colchester.
Pies and burgers have faced the chop, as the firm struggles with staff shortages and food prices.
UK Hospitality told the BBC that offering shorter menus is one of a number of ways restaurants and cafes are trying to get through the winter.
"It was the only option to keep the business open," Mrs Riddleston said.
Other measures many businesses are considering include reducing trading hours, or even closing for days at a time.
'The menu had to reduce'
A lack of staff is the main reason why the Green Room restaurant had to cut its menu drastically, Mrs Riddleston said.
"Over a year ago, we had five full-time chefs," she told the BBC. "Now we're down to just three full-time chefs. So the menu had to reduce so they could keep up with the workload."
One year ago, lunchtime diners would have been offered an extensive A3 menu with 11 starters and 18 mains, plus additional lighter bites and sharing platters.
About six months ago, the menu shrank to a double-sided A4 size piece of paper, and now there are just four starters and nine mains available.
The number of pies on the menu has been cut from three to one. Burgers have faced a similar fate, while fish dishes have been reduced from four to two.
The soaring costs of food and energy have also played a part.
"We've had to adapt the menu to rising food costs, so that we can source ingredients to make the dishes with, and we've now got the challenge of energy costs going up," she says.
One positive is that there is much less food waste, she says. "If there's too much on the menu, things that aren't getting used just get wasted."
Mrs Riddleston says the firm is just making choices so that the restaurant can stay open.
"There are less and less chefs, and there are so many businesses that you know of, that are struggling as well. It does make us wonder how many of us will survive and be here next year."
Diners in restaurant seem understanding of the struggles of the industry.
"You can understand why they're doing it, if they can't make ends meet," one diner told the BBC.
"It's a small menu, but as long as it's tasty, and good value, and homemade, then it could even be better sometimes," another added.
Hospitality businesses across the country have been struggling to recruit staff in recent months and years.
Labour shortages have been attributed to a decline in the number of foreign workers in the UK. After the coronavirus pandemic and Brexit, many EU nationals who worked in the UK have returned to their countries of origin.
Earlier this week, the boss of the UK's biggest business group, the CBI, urged the UK to use immigration to solve worker shortages and boost economic growth.
But Prime Minister Rishi Sunak said the UK's "number one priority right now, when it comes to migration, is tackling illegal immigration".
Stacey Ward runs the Fourwards restaurant in Leicestershire, together with her husband Adam.
She told the BBC they've been shrinking menus since they reopened after Covid lockdowns due to rising costs and the struggle to recruit.
They now only have seven starters and nine mains on the menu, which offers modern British fare, compared with 10 starters and 14 mains before Covid.
"Our menu before the pandemic was much bigger. Now there are only three of us in the kitchen and that means there's only so much we can do, without cutting corners," she says.
She worries that they could be forced to reduce menus even further if prices continue to rise and if they can't source the products they need.
"It's about being savvy and using fewer items and making products go further," she says. "Our food waste is tiny now, which is one good thing."
So far, customers have been supportive of the pared-down menus.
"Customers have been really great," she says. "We're all adapting to this new way of living if you want to call it that. It's no different than if you go into a supermarket, where they have shortages too."
Calls for more support
Kate Nicholls, chief executive of UK Hospitality, said businesses are "doing all they can to survive this winter", in the face of staff shortages, soaring food and drink prices and higher energy bills.
"The industry is nothing if not creative in its resilience, as proven during the pandemic, and we are already seeing operators implement a raft of measures to ensure they can remain viable," she said.
But Ms Nicholls warned that no extra measures would help unless the industry gets support from the government. In particular, she said the sector needs a plan for growth, support on energy costs after April, and reform of business rates.
A spokeswoman for the Department for Business said: "We know this is a difficult time for hospitality businesses and we remain firmly on their side. That is why we have acted to deliver the Energy Bill Relief Scheme which means they will pay less than half the predicted wholesale cost of energy this winter."
She also pointed towards measures outlined during the Autumn Statement, such as business rates relief offered for retail and hospitality firms.
Please include a contact number if you are willing to speak to a BBC journalist. You can also get in touch in the following ways:
If you are reading this page and can't see the form you can email us at HaveYourSay@bbc.co.uk. Please include your name, age and location with any submission.