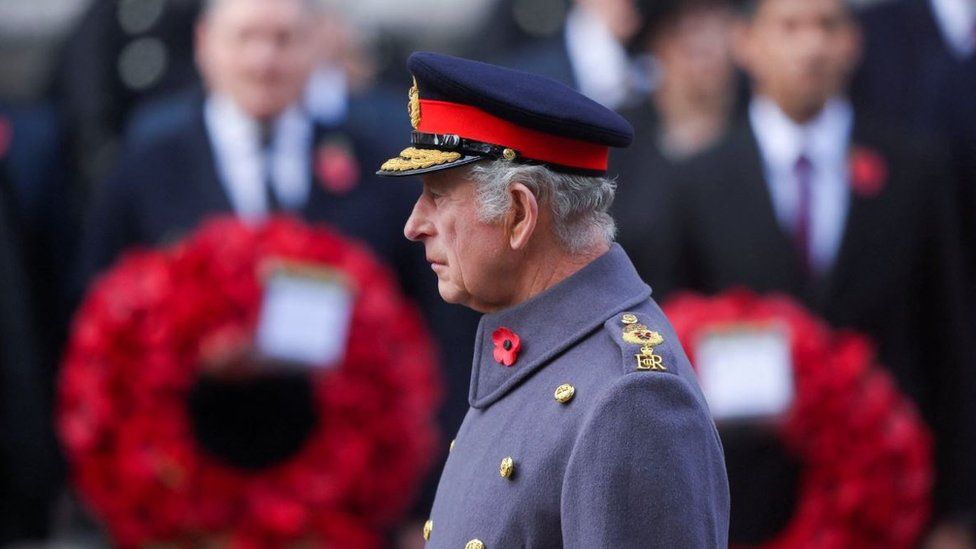 The UK has fallen silent on Remembrance Sunday as the King leads the nation in honouring servicemen and women who died in past conflicts.
A national two-minute silence was held at 11:00 GMT, with similar ceremonies at war memorials across the country.
The silence was tolled by Big Ben marking its official return to use.
King Charles then laid a wreath at London's Cenotaph – the first time he has done so as monarch, following the death of his mother Queen Elizabeth II.
Other royals, including the Prince of Wales, the Earl of Wessex and the Princess Royal also laid wreaths, along with the prime minister and other senior politicians.
King Charles' ring of poppies incorporated a ribbon of racing colours in a tribute to the ones used by the late Queen and his grandfather, King George VI.
During his time as Prince of Wales, King Charles represented the late Queen at the last five Cenotaph services and laid a wreath on her behalf, as she watched from the Foreign Office balcony that overlooks Whitehall.
Sunday's service, led by the Bishop of London, also features a march past by some 10,000 Royal British Legion veterans, representing 300 different Armed Forces and organisations between them.
Among those taking part are World War Two veterans – fewer in number as each year goes by – and those who have served in more recent conflicts.
The beginning of the silence was marked by Big Ben striking 11 times at 11:00.
The bell has been largely silent for five years after it was dismantled and repaired in a renovation project. While it has run for events such as New Year's Eve and the late Queen's funeral, its tolling on Sunday will mark its official return to use.
To commemorate 40 years since the Falklands War, 400 members of the South Atlantic Medal Association will also take part.
They will be joined by those who have lost loved ones in conflict, with the youngest marcher just eight years old.
A further 10,000 members of the public are expected to line Whitehall to watch the service.
Speaking ahead of the service, Prime Minister Rishi Sunak and Defence Secretary Ben Wallace commemorated the fallen and also paid tribute to those fighting for Ukrainians' freedom.
Mr Sunak said: "This year more than ever, we are reminded of the huge debt of gratitude we owe those who lay down their lives to protect their country.
"As we fall silent together on Remembrance Sunday, we will honour the memories of the men and women we have lost and pay tribute to the brave soldiers of Ukraine as they continue their fight for freedom."
His words were echoed by Mr Wallace, who said Remembrance Sunday was a time to reflect on the sacrifices made by our veterans and service personnel around the world.
"We must never forget those who gave their lives in defence of our values and our great nation," he said.
"All of us will also be thinking of those brave Ukrainians who are fighting for their very own survival to defend freedom and democracy for all, just as the UK and Commonwealth soldiers did in both world wars."
Chief of the Defence Staff Admiral Sir Tony Radakin, the professional head of the armed forces, said Remembrance Sunday held further poignancy following the death of the late Queen.
He said: "She represented duty and service, but also that dignity of that wartime generation and all they sacrificed for our freedom.
"And I think there's the additional poignancy that once again we have war in Europe."
He added it was important to also acknowledge the sacrifice in post-world war conflicts.
"There is a continual commitment and sacrifice in order to preserve our freedom, our self determination, the values we cherish."
More than 100 Falklands War veterans and family members of those who died in the war will take part in a remembrance service and parade in capital Stanley on Sunday.
They made the 8,000 mile (12,900km) journey via a special flight arranged by the Ministry of Defence, with many of the veterans making an emotional return to the Falklands for the first time since the war with Argentina broke out in 1982.
Over the past few days the veterans, along with mothers, wives and children of those who died, have visited the battlefields where British forces fought, with some shedding tears and placing crosses at cemeteries for fallen comrades and family members.
On Friday, the UK held another silence on Armistice Day to commemorate the end of World War One in 1918.
Ahead of the 80th anniversary of the end of World War Two, in 2025, the BBC is trying to gather as many first-hand accounts from surviving veterans as possible, to preserve them for future generations.
Working with a number of partners, including the Normandy Memorial Trust and the Royal British Legion, the BBC has already spoken to many men and women who served during the War – you can watch their testimonies here.
Do you or someone you know have memories of World War Two? Please share these experiences by emailing haveyoursay@bbc.co.uk.
Please include a contact number if you are willing to speak to a BBC journalist. You can also get in touch in the following ways:
If you are reading this page and can't see the form you will need to visit the mobile version of the BBC website to submit your question or comment or you can email us at HaveYourSay@bbc.co.uk. Please include your name, age and location with any submission.