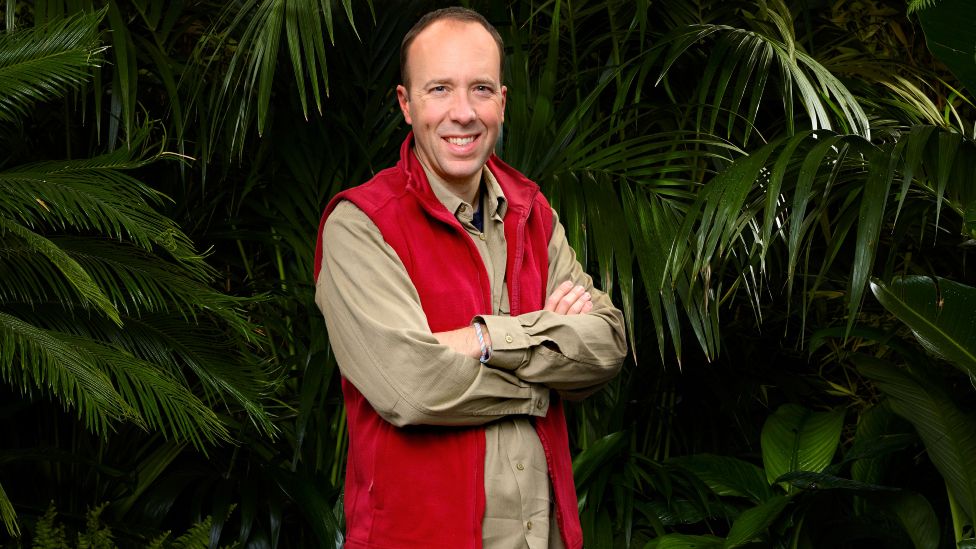 Former health secretary Matt Hancock has said survival in the I'm a Celebrity… jungle is a "metaphor for the world I work in".
He said appearing on the ITV show was a chance for people to see the "human side of the guy behind the podium".
A newly-released picture shows Hancock in his jungle uniform.
His entrance to camp was teased on Tuesday's episode, and he will join fellow new entrant Seann Walsh on the show from Wednesday night.
Other celebrities including singer Boy George, DJ Chris Moyles, rugby player Mike Tindall and actress Sue Cleaver are already in the camp, in New South Wales, Australia.
Hancock's entrance was teased by co-hosts Ant McPartlin and Declan Donnelly during Tuesday night's episode.
The MP, who was UK health secretary during the coronavirus pandemic and often appeared behind a wooden podium during Downing Street news conferences, later told viewers they would "see the real me".
In new quotes released by ITV, Hancock said his phobias include "snakes", adding: "I don't thankfully suffer from claustrophobia -or I think I don't."
He went on: "Lots of people have a view on me from being health secretary in the pandemic dealing with some very difficult issues, but that's not the whole story.
"I am looking forward to throwing myself into it all like I do everything in life. You can't hide anything in the jungle, you see somebody warts and all."
Following his decision to join the series, Hancock had the Tory whip suspended and was criticised for taking part at a time when Parliament is sitting.
The 44-year-old, who resigned as health secretary last year after breaching Covid social distancing guidance by kissing a colleague, is entering the jungle after spending a period of time in isolation.
Hancock, who is still the MP for West Suffolk, has been given access to a laptop during his isolation, allowing him to continue working and to stay in touch with constituents.
Walsh, the other new campmate, is best known for his controversial appearance on Strictly Come Dancing, which saw him break up with his then-girlfriend after he was pictured kissing his pro dance partner Katya Jones.