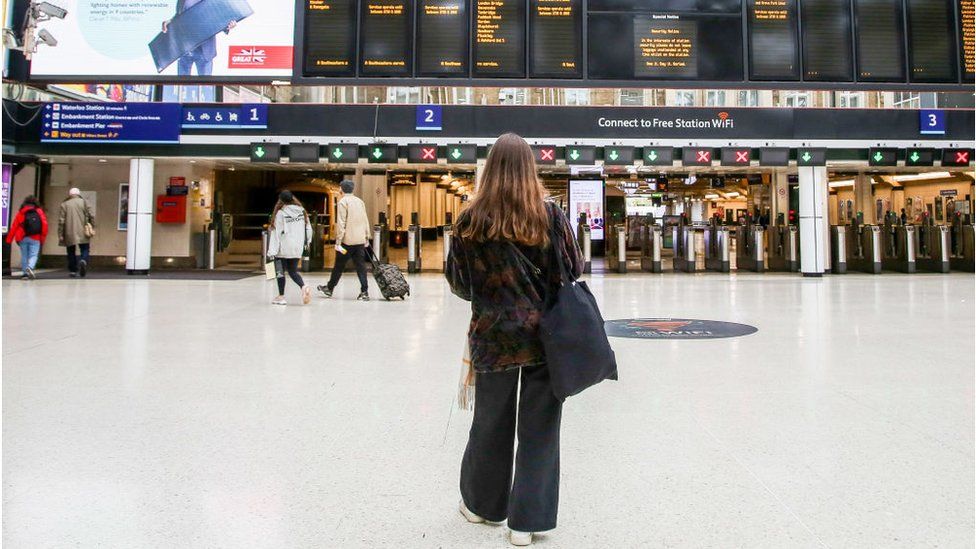 By Tom Espiner
Business reporter, BBC News
Rail passengers are being urged to check whether their trains are running on Monday as the majority of rail operators run reduced services.
Only a handful of train companies will run a normal timetable, despite strikes over pay and conditions being called off on Friday.
The strikes, planned for 5, 7 and 9 November, had been called in a dispute over pay and conditions.
Some services on Wednesday are also likely to be disrupted.
Although the strikes are not going ahead, rosters for train drivers are normally put in place and agreed a week in advance.
The Rail Delivery Group, which represents the train companies, said that the "short notice" cancellation of the strikes means that "train driver availability will inevitably be very challenging and rely primarily on volunteers".
Nevertheless, some of the 14 train companies that were due to be affected by the strikes are running a normal service on Monday, including C2C and Greater Anglia.
However, the majority are not, with some saying the disruption will also affect services on Wednesday.
Great Western Railway (GWR) said it was working hard to reinstate services into next week but improvements to Monday's timetable were "unlikely" given "the late notice".
More information about Wednesday would be released "early next week", it added.
Network Rail warned passengers that there would be "limited ability to change the strike timetable for Monday".
Meanwhile, West Midlands Railway said a reduced service would be in operation on Monday while work was ongoing to establish the "level of service" it could run on Wednesday.
South Eastern Railway's services will start later and finish earlier than usual on Monday and there will be no service on the Medway Valley or Sheerness lines.
South Western Railway said it was too late to reinstate a full service on Monday and its trains are expected to run only between 07:00 GMT an 19:00 GMT.
However, it confirmed that full services would run on Wednesday and Thursday.
Train companies are advising customers to check services before they travel, and make additional checks on the day.
Negotiations
The RMT union said on Friday it had called off the strikes after "the promise of an offer" on pay from the rail operating companies, and said it would enter "intensive negotiations" with the firms and Network Rail.
Steve Montgomery, chair of the Rail Delivery Group, said on Thursday that the train companies were "working up to" making an offer to the trade unions.
However, rail employers and the government also said their position had not changed.
The suspension of the strikes is significant, as it is the first time in the RMT's long-running dispute that a strike has been called off to make further talks easier.
New rail minister Huw Merriman said on Thursday that the government wanted to "work positively and constructively" to find a solution to the ongoing rail disputes.