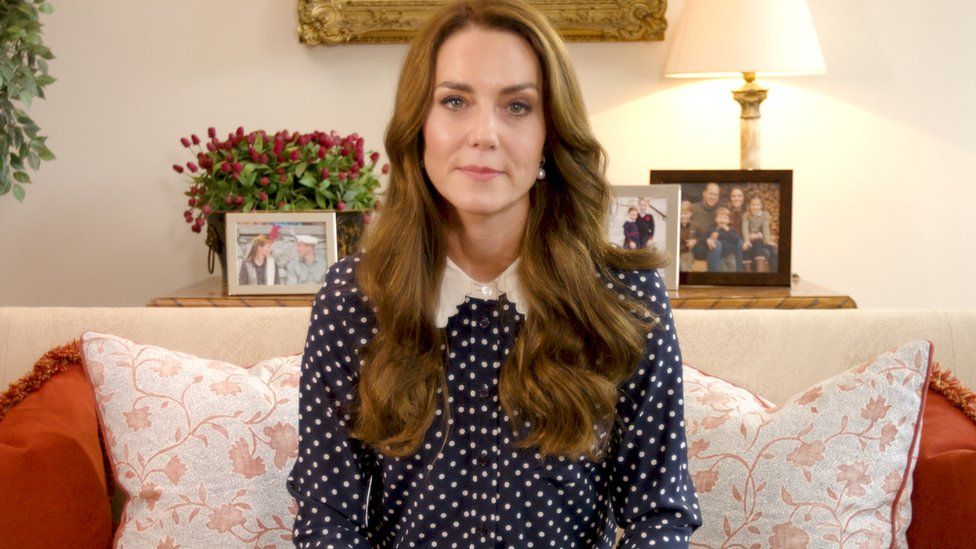 By Sean Coughlan
Royal correspondent
The Princess of Wales has given her personal support to people struggling with addictions, telling them shame should not stop them getting help.
"No one chooses to become an addict," said Catherine, Princess of Wales.
Launching the Taking Action on Addiction campaign, the princess called for a more compassionate public attitude towards addicts.
This included people going through life-wrecking problems with alcohol, drugs or gambling.
"I want to share a message of support to those who are continuing to suffer," said the princess, in a video delivering a message to those wrestling with addiction.
"Addiction is a serious mental health condition that can happen to anyone, no matter what age, gender, race or nationality."
Recorded earlier this month at Kensington Palace, this was the first such personal video message from Catherine since she became Princess of Wales.
The princess, a patron of the Forward Trust charity that tries to break the cycle of addiction, said: "I want you to know that this is also a serious health condition.
"Please do not let shame hold you back from getting the help you so desperately need."
She warned that negative public attitudes stopped people seeking advice and meant "people are still tragically losing their lives".
The princess was backing a campaign to change perceptions of addiction and to "reduce prejudice", with the aim of encouraging more people to engage with support services.
The video includes a clip of the Amy Winehouse Foundation, set up after the 2011 death of the singer who had been plagued by problems with alcohol and substance misuse.
The message about addiction reflects a cause the princess has supported before, overlapping with her mental health campaigns.
There were also warnings this week of the need to protect funding for preventative health projects about alcohol and drug misuse, which can disproportionately affect the poorest communities.
"At a time when addiction is growing across the UK, it is crucial we build awareness of its causes and act quickly to stop this tide, to get in early to reduce the impact on families and children," said Mike Trace, chief executive of the Forward Trust.
The charity provides services including helping with employment and addressing the problems of addicts and addictions in prison.
Before the Princess of Wales became the Forward Trust's patron, she had twice visited the charity's substance misuse services at HMP Send, a women's prison in Surrey.
The trust has also called for greater recognition of the scale of gambling inside prisons.
But the video from the Princess of Wales emphasised the need to understand the roots of addiction and to take away the stigma that might be a barrier to getting help.
"I know this was not a choice. Recovery is possible," she ended her message.