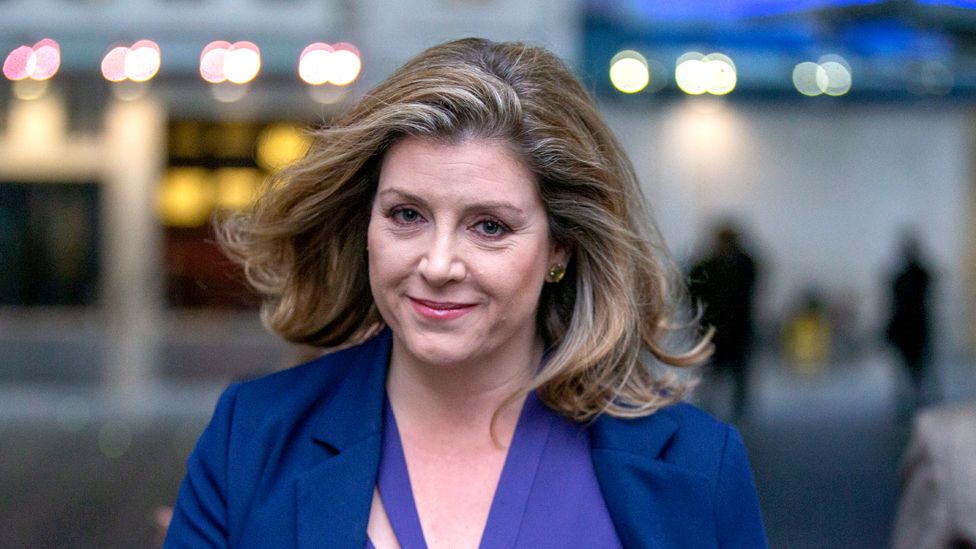 By Joshua Nevett & James Gregory
BBC Politics
Penny Mordaunt is under pressure to secure enough support to go head-to-head with frontrunner Rishi Sunak in the race to become the UK's next prime minister, after Boris Johnson withdrew.
The former chancellor has by far the most declared backers among Tory MPs.
Ms Mordaunt needs 100 MPs to back her before nominations close at 14:00 BST.
Her campaign claimed she had passed 90, with a spokesperson telling the BBC: "For the sake of the party, it's important our members have their say."
If Ms Mordaunt does reach 100 backers, the race could then go to an online ballot of Conservative Party members, with the winner of that being announced on Friday.
One of her backers, former cabinet minister Andrea Leadsom, said there was "absolutely no chance that Penny will step down" from the leadership contest.
But another MP who was supporting her, George Freeman, has urged Ms Mordaunt to drop out and back Mr Sunak in the interest of unity and stability, rather than go to a membership ballot.
Confirming he would be switching to vote for Mr Sunak, Mr Freeman told BBC Radio 4's World at One programme: "Given the urgency of the economic crisis we face… it is essential, I think, that we come together quickly and demonstrate stability and unity, and for that reason I don't see the advantage of taking another three or four days to choose which of Penny or Rishi gets the top job and which gets the second top job."
Mr Johnson's announcement that he would not stand had already put pressure on Ms Mordaunt to stand aside, allowing Mr Sunak to take charge of the party without the need for a vote.
In a statement on Sunday, Mr Johnson – who stood down as prime minister only seven weeks ago – claimed he had enough support to stand but added that now was "simply not the right time".
Mr Johnson's abrupt withdrawal surprised many of his supporters, including Tory MP James Duddridge, who tweeted: "Well that was unexpected. Off to bed!"
Other backers of Mr Johnson – including former cabinet minister Nadine Dorries – have suggested he was the only candidate who had a mandate to be prime minister and a general election looked unavoidable following his withdrawal.
With Mr Johnson out of the leadership race, several MPs have switched their nominations to the two remaining candidates.
Of the MPs who have gone public with who they are backing, 193 have supported Mr Sunak and 26 have supported Ms Mordaunt.
Paul Goodman, editor of Tory news website Conservative Home, suggested Ms Mordaunt should pull out "for the good of the Conservative Party and the country".
But Ms Mordaunt's campaign said she was "speaking to colleagues from across the party" and was "in it to win it".
Her team insisted she was within "touching distance" of getting enough backers, while Mr Sunak's team said they were taking nothing for granted.
Damian Green, a cabinet minister in Theresa May's government who is backing Ms Mordaunt, said her numbers were "well above" the published figure and she was "confident of getting to 100 before the deadline".
Mr Sunak is the firm favourite to replace Ms Truss as PM and could do so by as early as Monday afternoon if Ms Mordaunt fails to meet the benchmark.
Chancellor Jeremy Hunt, who scrapped many of Ms Truss's major economic plans announced in September's mini-budget, has endorsed Mr Sunak.
So too have Foreign Secretary James Cleverly, International Trade Secretary Kemi Badenoch, and former cabinet ministers Suella Braverman, Priti Patel and Michael Gove.
What's happening today?
14:00: Nominations close. Candidates need the support of at least 100 Tory MPs to progress to the next stage. If only one candidate gets 100 nominations, they will become the next Tory leader and prime minister
15:30 – 17:30: If two candidates remain, Tory MPs vote to indicate their preference
18:00: The result of the indicative vote will be announced. If two candidates remain and no one withdraws, Tory party members will make the final decision in an online vote, with the winner declared by Friday
Whoever wins the race will be the UK's third prime minister in less than two months.
The next general election is not due to take place until at least 2024, after the Conservatives won a landslide majority in the last one in 2019.
Under the UK's parliamentary political system, the next prime minister is under no obligation to call an early general election.
But there are growing calls from opposition parties for an immediate election – with Labour's deputy leader Angela Rayner noting that Mr Sunak has not given a public interview since the leadership process began.
SNP's Westminster leader Ian Blackford also said Tory MPs should put pressure on their next leader to immediately call a general election.
In his statement withdrawing from the contest, Mr Johnson said he was "uniquely placed to avert" a general election, which would be "a further disastrous distraction".
His supporter, Ms Dorries, said it would now be impossible to avoid a general election, taking aim at the remaining two candidates.
The former culture secretary tweeted that Mr Sunak and Ms Mordaunt, "despite requests from Boris, refused to unite, which would have made governing utterly impossible".
Ms Johnson's former director of communications, Will Walden, said he thought Mr Sunak would now win the leadership contest, adding: "I think that will probably lead to a general election."
But Home Secretary Grant Shapps rejected the idea of an early election, insisting people voted for the Conservative Party's 2019 manifesto.
"The 2019 manifesto is a document, if anything, that would be more adhered to by Rishi, if he becomes prime minister, than perhaps has been the case in the last couple of months," Mr Shapps told BBC Radio 4's Today programme.
Ms Truss replaced Mr Johnson following a lengthy leadership campaign in the summer. She will become the shortest-serving prime minister in British history when she stands down.