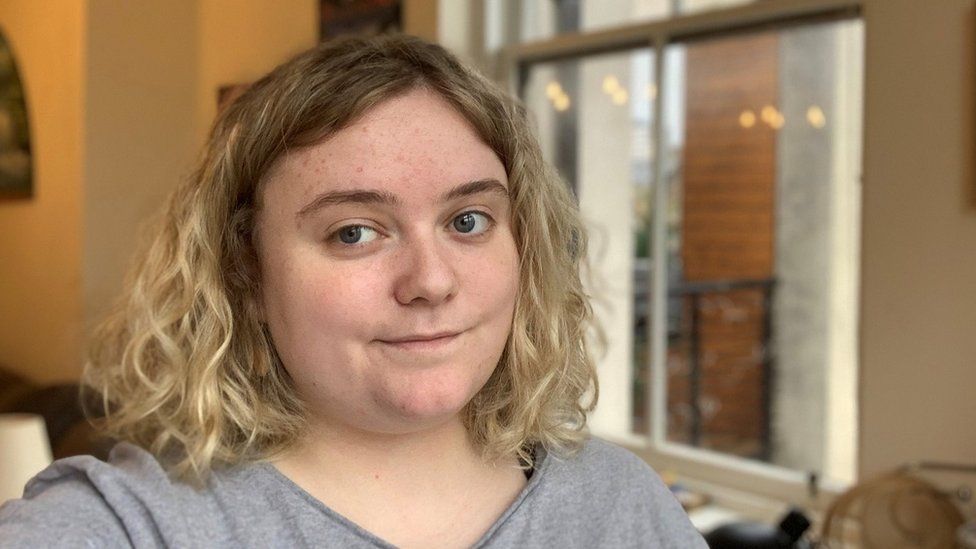 Unpacking, making new friends and getting lost on the way to lectures are all part of starting university – but Flora Gosling spent most of her Freshers' Week staring at food on supermarket shelves, panicking that she would not be able to eat any of it.
Flora can eat plain pasta, bread and butter, but they are among the only foods that her mind registers as edible. Anything else can lead her to gag, choke or vomit.
If she does try to eat something not on her "safe foods" list, "both mentally and physically I have this immediate need to get it out of my mouth".
The 23-year-old, from Aberdeenshire, has avoidant/restrictive food intake disorder (ARFID), an eating disorder which can cause extreme anxiety about food.
Flora first left home to go on a gap year in New Zealand, meaning she no longer had help from her parents to make sure she could get hold of the right food.
Now going into her final year studying English and Theatre at the University of Glasgow, she says having an eating disorder at university can be "exhausting and isolating".
In the latest three months of available data, from April to June this year, 2,862 children and young people began NHS treatment for an eating disorder, with 1,721 on a waiting list. That waiting list has more than tripled compared with the same period three years ago.
But eating disorder charity Beat says information is lacking about how many young adults need support for an eating disorder, because of the complex process of being moved from child to adult support services.
The charity's head of safeguarding and quality assurance, Kerri Fleming, told the BBC that the "missing" information meant universities are "unable to prepare as well as they should" to provide support for affected students.
'Year without butter'
The first time Flora went to a supermarket on her own was during her time in New Zealand.
"I remember being in front of a fridge full of different types of butter I didn't recognise, crying because I couldn't decide whether I was going to spend an entire year without butter, or try something new that might make me feel really anxious and unwell," she says.
During that year, Flora also found it distressing to cook in front of people she did not know very well.
"There is a real humiliation that comes with cooking and eating in public, because you have to go through your own anxiety while also explaining it to the people around you," she says.
Learning from her gap year experience, Flora decided to avoid the busy, shared kitchens in student halls when she started university – opting instead to share a flat with just one other person.
But she still struggled to develop healthy habits, and would prioritise 12-hour stints at the library over eating regular meals.
"I remember walking home one day and realising there was nothing I could think of to eat. I just broke down crying and I couldn't explain to anyone why I was so upset," she says.
What is ARFID?
People with this eating disorder avoid specific foods or entire food groups – so they may struggle to maintain a healthy weight or get the right amounts of nutrients
It is not driven by issues around weight and body image
Instead there is low interest in food and eating, sensory issues or concerns about feeling or being unwell after eating
That can include being very sensitive to the taste, texture, smell, or appearance of certain types of food, or only being able to eat foods at a certain temperature
Find out more about ARFID here.
After spending hours searching for a meal, Flora finally settled on a panini. The ordeal meant she lost a day of studying time and was left feeling "tired, hungry and embarrassed".
Tom Quinn, Beat's director of external affairs, says university can be "a challenging time" for people with eating disorders for lots of reasons, such as moving away from home, changing their routine, and the stress of meeting new people and studying for long hours.
Stress can "worsen eating disorder behaviours and make recovery more difficult", he says.
Flora says it can be hard to find the right support and has had to cope alone, at times.
The University of Glasgow said it has services available to give advice and support to students managing an eating disorder, and could help them to access specialised support through GPs and other NHS services.
A spokesperson told BBC News the university had schemes such as a monthly eating disorder and compulsive exercise support group providing a "safe place" for students and others in the local area.
Flora has now learnt how to manage her eating disorder while at university. She has a "perfect map" in her head of the cafes, restaurants and supermarkets in the West End of Glasgow that sell food she is able to eat, and only goes to those places.
"It can really get in the way of me feeling comfortable interacting at social events and I often fear how my relationship with food will affect me, but it's something I've become so used to," she says – adding that she has accepted that feeling overwhelmed and anxious is part of having ARFID at university.
"It can be exhausting and isolating but it also is manageable, you just have to develop your own coping mechanisms and routines."
Beat says there is a lack of data on how many people in the UK have an eating disorder, but based on figures from other countries, it estimates it could be 1.25 million.
The charity's Kerri Fleming says new university students with eating disorders should speak to the university's well-being team, register with a local GP practice, and should not be "in denial" about needing help.
As well as recommending a visit to the GP, some universities also point students towards charities that run recovery workshops and helplines, and mental well-being apps.
"Don't try and pretend that everything is OK. Something people will do is immediately say they can manage it, that it's just a blip, and they try and continue as normal," she adds.
"Ask for that support, don't be ashamed to do so."
If you, or someone you know, has been affected by eating disorders, these organisations may be able to help.