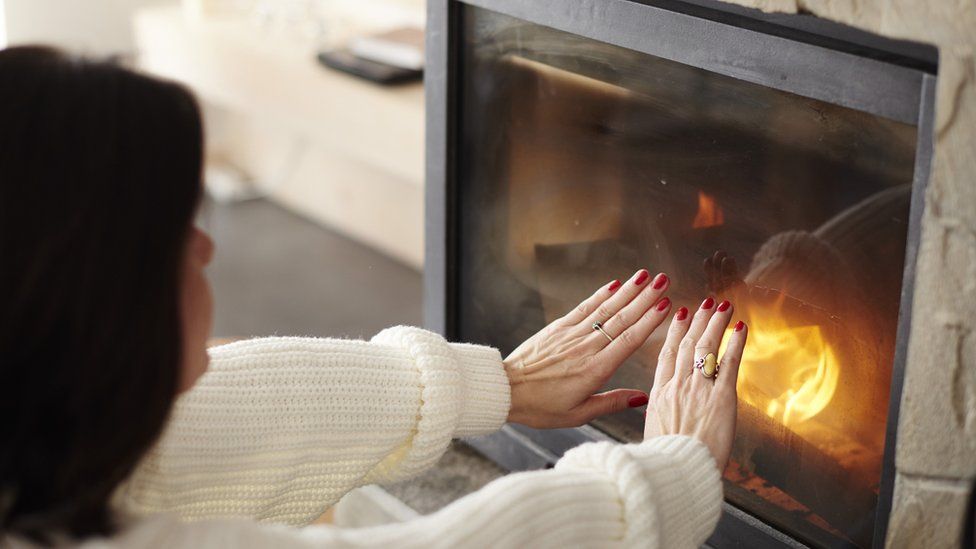 By Robin Sheeran
BBC News NI
People in Northern Ireland need to be aware of the dangers involved with heating their homes this winter, the fire and rescue service has warned.
As the cost of living continues to rise, for some it could mean turning to energy sources which have not been regularly serviced.
Chimney sweep Craig Morrow told BBC News NI he recently worked on a chimney which had not been swept for 20 years.
This was down on 809 the previous year.
There has also been a 50% decrease in house fire fatalities, with three recorded during the same period. That is down from six in 2018/19.
However, firefighters have issued safety tips and a warning that if people turn to older electrical heaters or cut corners with servicing, there could be a fire risk.
Group Commander Suzanne Fleming said portable heaters that had not been used for some time is a particular concern.
Check the cable is not frayed and don't place the heater too close to a sofa or curtains, she warned.
"Open fires would be the other great risk," Ms Fleming continued.
"If people try to use chimneys that haven't been used for some time they may actually be blocked," she told BBC News NI.
Turning to the dangers of carbon monoxide, the danger comes "with any fossil fuel that you burn".
"It will make you drowsy and you won't know you're getting drowsy," the senior firefighter said.
Craig Morrow, a chimney sweep who is based in Belfast, said "all it takes is one hot ember to go up the chimney" to cause a chimney fire.
He advised that people should have chimneys swept at least once a year, or twice if it is in use during the summer.
A chimney fire, he explained, can start when a type of soot called creosote forms.
Wood-burning stoves, gas fires and Aga-type cooker chimneys also need to be cleaned, he added.
Mr Morrow warned that some people have turned to using chimneys which had been dormant for decades, partly due to it being a cheaper source of energy as prices rise.
'Test appliances'
Gas engineer Gordon Glenn said boilers need to be regularly maintained.
"Some insurance policies will make your home insurance null and void if your boiler has not been serviced once a year," he said.
Carbon monoxide alarms too, as these will "usually last for seven years," he explained.
"It's a secondary level of householder safety. For the price of a carbon monoxide detector and a proper inspection by a qualified person it could save somebody's life.
"You wouldn't ride a bike to Dublin that's been sitting for 12 months without checking the brakes first, so why would you use an appliance that hasn't been tested," he added.
If you're having gas appliances serviced you'll need to find an engineer who's on the Gas Safe Register.
How to stay safe
The Northern Ireland Fire and Rescue Service has compiled a list of safety measures for people to follow in their homes.
Those with chimneys that have not been used for a while must ensure they are not blocked. They must be serviced by a qualified person
Always use a fire guard for an open fire
A carbon monoxide alarm must be in the same room as a fire – fires can produce carbon monoxide which you cannot see nor smell
Portable heaters or electric blankets must be checked first – no frayed wires or damaged, loose wiring
Do not overload plug sockets – this can cause overheating
When using portable heaters do not place items in front of them – they can catch fire. Do not leave them unattended and turn them off before going to sleep
Do not dry clothes on portable heaters