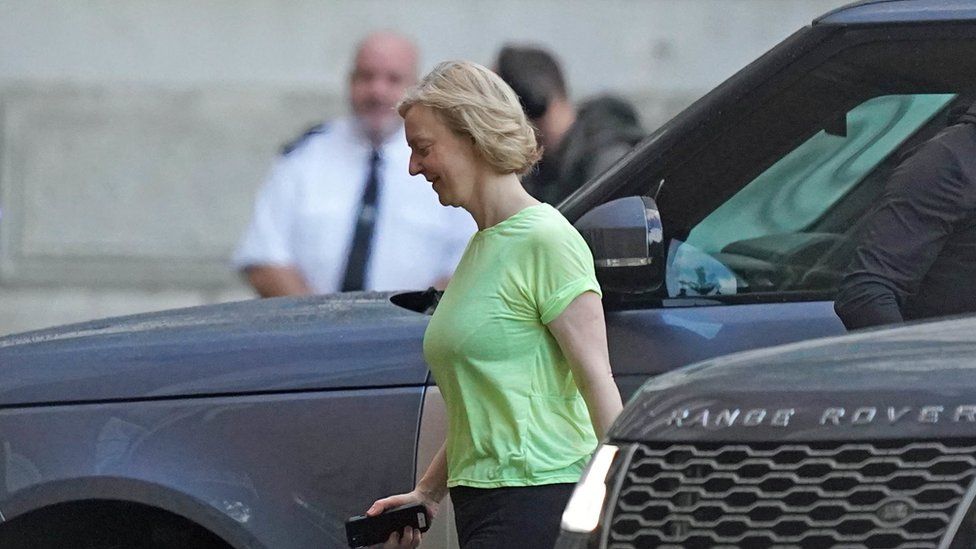 Conservative MPs hoping to succeed Liz Truss as prime minister are racing to find backers before a Monday deadline.
Defence Secretary Ben Wallace has ruled himself out of the contest, adding he is "leaning towards" backing Boris Johnson.
The former PM has not ruled out a dramatic comeback, months after being forced out after a Tory revolt.
Candidates to replace Ms Truss need support from at least 100 colleagues, limiting the contest to three.
She resigned on Thursday just six weeks into the job, making her tumultuous premiership the shortest in British history.
Rishi Sunak and Penny Mordaunt, who stood unsuccessfully in the contest to replace Mr Johnson, are also seen as likely contenders to run again.
So far, the BBC estimates that Mr Sunak has the most MPs declaring their support, with 63, compared to 38 for Mr Johnson and 17 for Ms Mordaunt.
But in a fast-moving situation, former Home Secretary Suella Braverman and International Trade Secretary Kemi Badenoch are thought to be considering bids.
Chancellor Jeremy Hunt has ruled himself out, along with Security Minister Tom Tugendhat and former cabinet minister Michael Gove.
Candidates have until 2pm on Monday to find 100 backers. If three reach the threshold, MPs will knock out one contender in a ballot on the same day.
'Boris or bust'
MPs will hold an "indicative" ballot of the final two, with the winner then decided in an online vote of party members to finish on Friday next week.
Mr Wallace said he was "leaning towards" supporting Mr Johnson, although he added the former PM still had "questions to answer" over the investigation he faces into his Partygate conduct.
He told reporters Mr Johnson had a "mandate" from the 2019 general election and "could win the next election".
But Tory MP Jesse Norman, one of scores of ministers to quit Mr Johnson's government, said bringing him back would be an "absolutely catastrophic decision".
Business Secretary Jacob Rees-Mogg has been encouraging MP colleagues to nominate Mr Johnson, and tweeted his support earlier alongside the hashtag "Boris or bust".
Fellow Conservative MP Tim Loughton took issue with the rallying cry, suggesting it would damage party unity.
He tweeted in reply: "How on earth can that slogan be remotely helpful to the party given the strong possibility that the next PM will not be Boris?"
If Mr Johnson did make a comeback it would be unprecedented in British political history, coming three months after being forced out by his own MPs after a string of scandals.
Polling suggests he remains popular with Tory members, but another tilt at the leadership could prove divisive among Tory MPs, some of whom have said they would quit politics if he came back.
Opposition parties are calling for a general election to decide who should be the next prime minister.
Labour leader Sir Keir Starmer said if Mr Johnson returned to No 10, that would be the "most powerful argument" for another poll.
"I remind myself that only three months ago Boris Johnson left office because most of those who were serving him on his front bench had declared that he was unfit for office," he said.
The next general election is not due to take place until at least 2024 and, at this stage, it looks unlikely that date will be brought forward.
Labour has been way ahead of the Conservatives in recent opinion polls.
Ms Truss's resignation on Thursday followed weeks of turmoil on financial markets following her tax-cutting mini-budget in September.
In response, she sacked her Chancellor, Kwasi Kwarteng, and appointed Jeremy Hunt to the post hours later to try to calm the markets.
On Wednesday, her Home Secretary, Suella Braverman, resigned and a chaotic night with accusations of bullying during a vote in the House of Commons followed, sealing her fate.