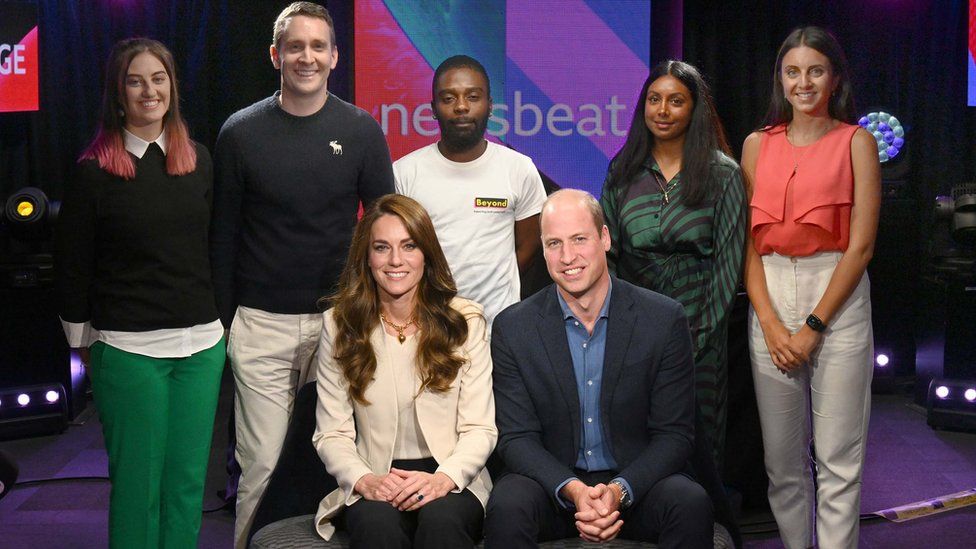 The Prince and Princess of Wales have taken over BBC Newsbeat to present a mental health special.
The royals-turned-reporters visited Radio 1's Live Lounge to hear from four guests about their experiences.
They included a young mental health advocate who recently advised writers on TV soap EastEnders about a schizophrenia storyline.
The full show, recorded on World Mental Health Day, airs on Tuesday on Radio 1, 1Xtra and Asian Network.
During the discussion, the prince and princess spoke about stigmas around mental health, the pressures of social media and ways to equip young people with the tools to open up about how they're feeling.
The prince said the couple wanted to "have a meaningful conversation about mental health".
Catherine added: "The first step for all of us is to keep having those conversations and keep reaching out for help."
In a preview released on Monday, the princess told listeners that "Newsbeat will sound slightly different" on Tuesday.
William added that they would talk about mental health toolboxes – providing people with coping skills and resources to alleviate anxiety and depression.
"You could be living one life one minute and something massively changes and you realise you don't necessarily have the tools or the experience to be able to tackle that," he said.
Inside the studio
By Pria Rai, Newsbeat presenter
The Radio 1 Live Lounge is usually the backdrop for A-list popstars, but this time the stage was set for something different.
The prince and princess made for brilliant Newsbeat reporters – they came in relaxed and keen to chat to our panellists, doing the key part of every reporter's job by putting them at ease before we took to our mics.
They engaged with issues including the pressures of social media, to raising young people to speak openly about their feelings.
We talk to our audience every day, but listening to them is just as much of a priority and I got the impression this was echoed by the prince and princess as they spoke about keeping the discussion around mental health going – something you could tell was important to them both.
I told them I'm keeping the presenter's chair warm for their next visit!
The princess also told listeners that she would "love to know" how they look after their own mental health, which was followed by a guest then explaining to the royal couple his approach.
"There's no right or wrong, that's the thing as well. Different things will work for different people," she said.
Related Internet Links
The BBC is not responsible for the content of external sites.