By Kate Whannel
Political reporter, BBC News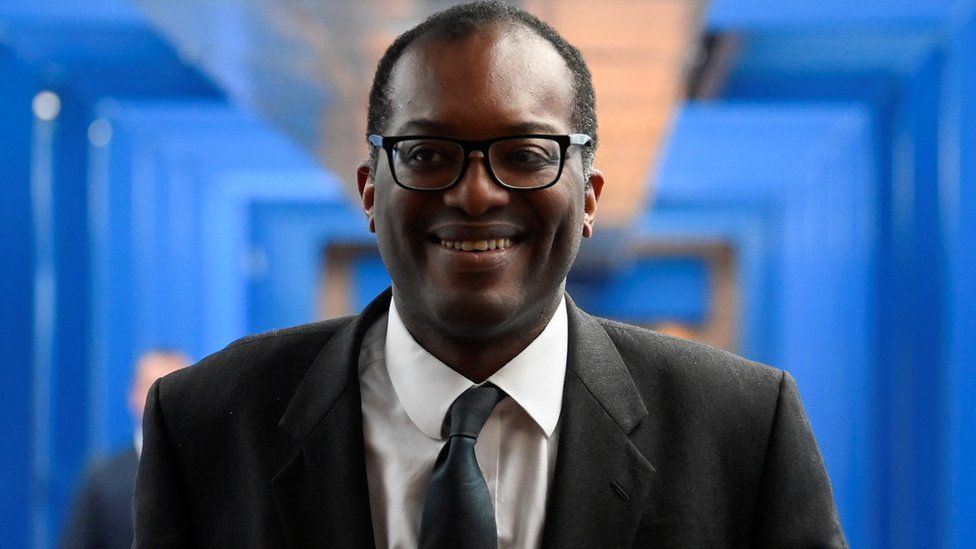 Kwasi Kwarteng will use his Conservative conference speech later to insist the government will "stay the course" on his tax-cutting growth plan.
The chancellor's approach has sparked market turmoil and disquiet among some Conservative MPs, but he will argue his plan is "the right one".
Without action, the country is heading for "slow decline", he will warn.
Mr Kwarteng is under pressure after a backlash against his mini-budget, unveiled on 23 September.
Former cabinet ministers Michael Gove and Grant Shapps have criticised the decision to remove the 45% top tax rate, with former transport secretary Mr Shapps predicting the proposal would be defeated in the Commons.
But Mr Kwarteng and Prime Minister Liz Truss have so far doubled down on their argument that their tax-cutting plans are needed to boost the UK's economy after more than a decade of sluggish growth.
In his first speech to a Conservative conference as chancellor, Mr Kwarteng will tell the audience in Birmingham: "We must face up to the facts that for too long our economy has not grown enough.
"I refuse to accept that it is somehow Britain's destiny to fall into middle income status… or that the tax burden reaching a 70-year-high is somehow inevitable.
"It isn't, and shouldn't be."
On Sunday, Mr Gove described the plan to cut the 45p top rate of tax as "a display of the wrong values", suggesting he would vote against the policy if it came before the Commons.
And Mr Shapps, who supported Rishi Sunak in the Tory leadership contest, warned Ms Truss not to have a "tin ear" to voters' concerns about rising living costs by introducing "tax cuts for wealthy people".
Also speaking on Sunday, Ms Truss acknowledged she should have "laid the ground better" for the tax changes her government was proposing.
But she stood by the decision to "act quickly" and promised to win over the "hearts and minds" of MPs in her own party who opposed the measures.
Also in his speech, Mr Kwarteng will argue he has a "new approach" focused on raising economic growth, which he says would create "higher wages, more jobs and crucially, revenue to fund our precious public services".
In a response to criticism that the government's tax-and-spend plans do not add up, he will say that his measures will be "backed by an iron-clad commitment to fiscal discipline".
"We will show that our plan is sound, credible and will increase growth."
Mr Kwarteng's £45bn package of measures outlined in the mini-budget also included cutting the basic rate of income tax to 19% from April 2023, as well as reducing stamp duty for some buyers.
The government had already announced it would be freezing energy prices for two years, estimating that the intervention would cost £60bn in the first six months alone.
Concern about how the government's proposals would be paid for was heightened by the Treasury's decision not to publish an assessment by the independent spending watchdog the Office for Budget Responsibility (OBR) – and by Mr Kwarteng's suggestion that more tax cuts could come.
Mr Kwarteng is due to set out further details of his economic plan on 23 November, along with a forecast by the OBR.