By Olivia Le Poidevin
Newsbeat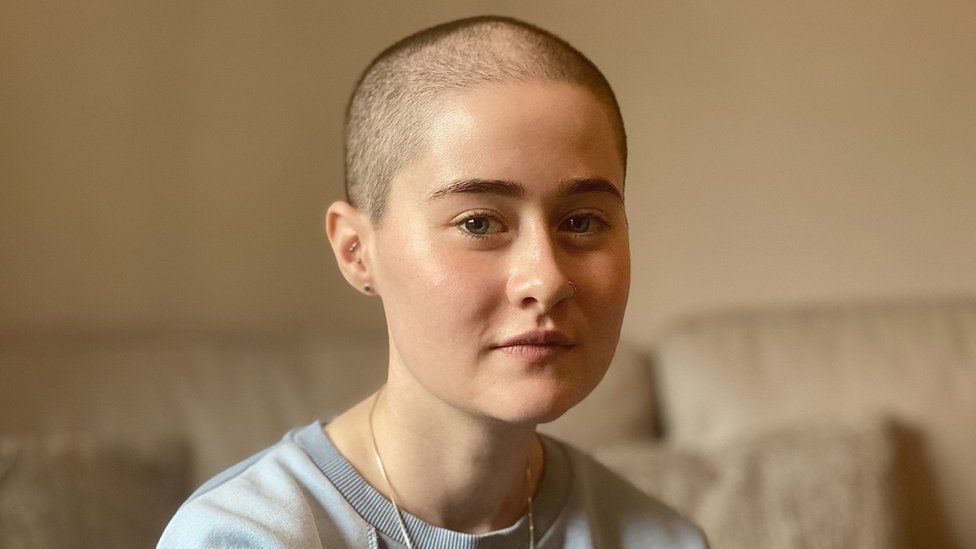 Charities are warning that young cancer patients facing soaring living costs are in a "desperate" situation.
Both Macmillan Cancer Support and Young Lives vs Cancer say they've seen dramatic increases in the number of people asking for emergency grants.
Research suggests tens of thousands of 18 to 39-year-olds with cancer are struggling to pay basic living costs.
Shell Rowe was among those who told BBC Newsbeat they're worried about becoming financially independent.
She was diagnosed with stage four non-Hodgkin's lymphoma at age 20 in 2019, just as she was about to study film in California for her third year of university.
"I turned to the mirror and it was like a tennis ball in my throat," she says.
"One minute you're about to go on this adventure of a lifetime and then you're sat in a hospital room – you're bald, you're looking really skinny and frail."
More than half of the 18 to 39-year-olds with cancer surveyed by Macmillan and Virgin Money said they needed more financial support to manage the rising cost of living.
One in four young people are getting further into debt or have fallen behind paying rent and energy bills because of increased living costs, according to the survey of 2,000 people across all age groups.
That's compared with 13% of people with cancer in their 40s and 50s, and 6% of those aged over 60.
The research found almost three quarters (74%) of younger people with cancer were worried about the cost of food over the next 12 months.
"Prices have skyrocketed. I haven't been able to work and haven't been able to save and get a job," she says.
"How am I ever going to be able to be financially independent? It really scares me."
Kamui Oshino, 20, is studying journalism at the University of the West of England in Bristol. They were diagnosed with stage four Hodgkin's lymphoma in December 2021.
"When you go through chemo, a lot of people start off very underweight. I was 40kg so I had to buy new clothes," Kamui says.
"And then being on steroids, I had to eat absolutely all the time. Obviously the price of food is going up. I couldn't afford that."
More than a tenth (11%) of those surveyed say they've had to delay or cancel medical appointments due to the rising cost of petrol.
Many people have to travel long distances for treatment, often in their own cars or a taxi because the risk of infection rules out taking public transport.
Tyler Hale, who was diagnosed with testicular cancer in November 2021, had to swap from driving his car to taking the bus, which takes an hour each way.
"I've had to pay a lot of travel costs to go from Weston-super-Mare to Bristol for treatment. With the costs of that going up, it's ridiculous," he says.
A third of young people surveyed also say their mental health has deteriorated with the financial worry.
'Never been as bad as this'
People with cancer already face significant extra costs of nearly £900 when they get diagnosed, such as buying extra clothes, food or using more heating to stay warm, Macmillan's data shows.
Now inflation has driven those costs up and the charity says they've seen a surge in demand for their means-tested financial grant to help cancer patients with costs, including energy bills.
"In July we saw a 292% increase in grant applications versus the same month last year. It is really worrying to see so many people worried about food," says Chris Jones from Macmillan.
Macmillan is not the only charity seeing an increase in young cancer patients needing support.
"It's never been as bad as this. Young people with cancer are in really desperate circumstances, because of the cost-of-living crisis," says Rachel Kirby, chief executive of Young Lives vs Cancer.
The UK charity supports cancer patients under 24 and has given 1,319 people up to £372,825 in financial help since launching its Winter Emergency Grant in 2021 to help with rising costs.
"No young cancer patient should have to think about the choice of putting fuel in the car to get to treatment, or whether they can heat their homes. But those are the kinds of situations they're facing," Rachel says.
Macmillan and Young Lives vs Cancer are calling on the government to give more financial help to cancer patients.
"We are calling for the government to really step up and support families with the cost of cancer. Because this situation is only going to get worse as we move into a cost of living crisis over the next six months," Rachel says.
"There's an average of a 20-week wait to claim a disability allowance that could help young people with travel and heating costs. We are asking the government to take urgent steps to reduce the delays," Chris adds.
The Department of Health and Social Care said Prime Minister Liz Truss had announced new measures to help people with energy bills, such as the recent energy price guarantee and £400 discount for all households.
A spokesperson added: "We are streamlining cancer diagnostic services to get people diagnosed faster, backed by £325m.
"The NHS continued to prioritise cancer treatment throughout the Covid pandemic. Overall cancer treatment was maintained at 100% of pre-pandemic levels, and 94% of people starting treatment have done so within a month."
Have you been affected by the issues raised in this story? Share your experiences by emailing haveyoursay@bbc.co.uk.
Please include a contact number if you are willing to speak to a BBC journalist. You can also get in touch in the following ways:
If you are reading this page and can't see the form you will need to visit the mobile version of the BBC website to submit your question or comment or you can email us at HaveYourSay@bbc.co.uk. Please include your name, age and location with any submission.
Related Internet Links
The BBC is not responsible for the content of external sites.