By Jennifer Meierhans & Lora Jones
Business reporters, BBC News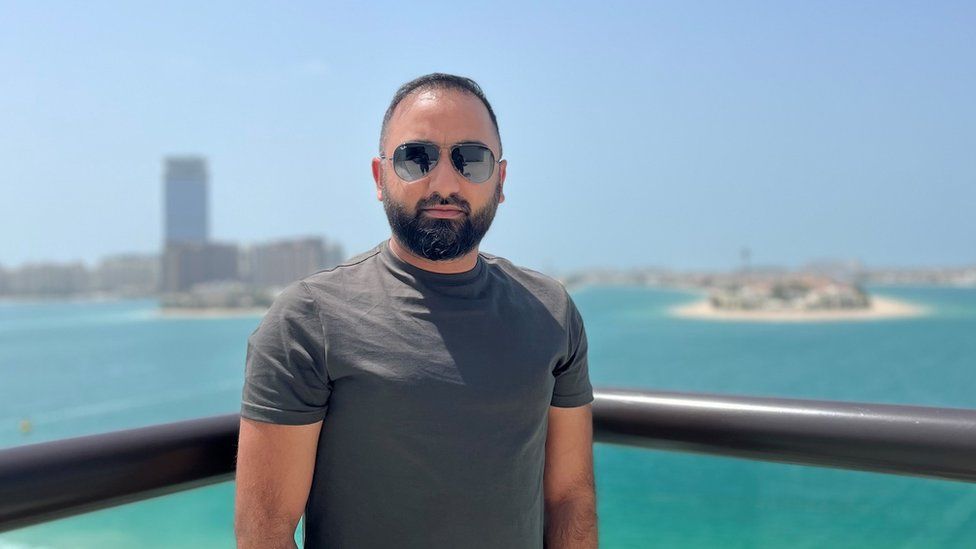 When Usman Ahmad, his wife and two children moved into their house four years ago they thought it would be their "forever home". But with the threat of a sharp rise in interest rates looming, he is worried they will lose it if they can no longer afford the mortgage payments.
When the family bought their house in Manchester in 2018, they fixed the mortgage at 2.05% for five years with monthly payments of £927, Mr Ahmad said.
That deal is up in nine months and Usman, a 33-year-old self-employed courier, said he was finding the uncertainty of how high mortgage rates could go "very stressful".
"After all the news about the pound and interest rates last night I thought I'd do a check of mortgage prices based on the value of the property now and how much is outstanding," he said.
"I'm with Halifax and if I were to fix today, depending on the tariff, I'd be looking at payments of £1,250 to £1,400 a month.
"I'm thinking if that's now, what are the rates going to be like in nine months' time when I have to take out a new deal?
"It's extra stressful because our gas and electricity bills have gone from £170 a month to £300 a month. Council tax when we first moved in was £180 and now it's £210.
"I'm worried about defaulting on the mortgage and losing the house," he added. "There isn't much to downsize to when you have two kids and moving to a cheaper area would affect our work and schools."
The Bank of England said on Monday, however, that it would "not hesitate" to hike interest rates after the pound hit record lows.
Some economists have predicted the Bank of England will raise the interest rate from the current 2.25% to 5.8% by next spring. That projection has led to some lenders temporarily removing mortgage deals for new customers due to uncertainty about how quickly interest rates will rise.
It has also raised concerns that the impact of rising rates could soon cancel out the benefit of the stamp duty cut which was also announced by Chancellor Kwasi Kwarteng in the "mini-Budget".
'I'm paying £250 more a month'
Mark Pepperell in Birmingham whose fixed-rate mortgage deal is coming to an end this month, has been looking for a new deal and was expecting to pay £150 extra a month.
He thought he might be able to shop around and shave some money off that amount so delayed making a decision.
Every time he spoke to his mortgage adviser, he found fewer deals were available.
He has now locked in a new deal for two years at £250 more per month (£980 in total) than they were previously paying.
"I didn't believe the mortgage would go up by that much."
While Mark works for a sports brand and his partner Deanna works in retail, he said: "It's a hard pill to swallow… we're comfortable, putting money back into restaurants or retail… but those things are going to have to stop."
Mark appreciates he's fortunate to be able to afford his bills and that there are those out there who will "need to choose between heating and eating" as the cost of living spirals.
But for his household, they won't be able to put any savings aside in the near future, and a weekly date night will now take place just once a month.
"We will now have to take serious decisions on where our money goes," he said, adding that in two years' time if rates did stand at 6% or 7%, they might have to consider selling and renting instead.
About 8.3 million people in the UK have mortgages, according to UK Finance.
The number of residential mortgages on offer by lenders fell to 3,596 on Tuesday, according to financial information firm Moneyfacts, in comparison with the 3,961 on offer on Friday when the mini-budget was announced.
Mortgage lenders base how much to lend to a customer on what's known as the loan-to-income ratio, or the amount they want to borrow divided by how much they earn.
The amount they can borrow is typically capped at about four-and-a-half times their annual income. But they take into account people's outgoings and look at what they would be able to afford under a "stress test" if interest rates were to go up or they were to take a career break or be made redundant.
The overall choice of mortgages does remain a lot higher than it was during the height of the coronavirus crisis, when low-deposit deals typically aimed at first-time buyers were pulled over concerns they were too risky.
Sally Mitchell, a mortgage adviser and broker known as 'the Mortgage Mum', told the BBC about 300,000 people come to the end of their fixed-rate mortgage every three months, but that there was a "lot of help out there" for those looking at costs increasing.
What should consumers do?
David Hollingworth, associate director of communication at broker L&C Mortgages, said those who already have a deal agreed with their lender need not worry.
He also said that he did not think it would be too long before lenders come back with new deals, although what had happened in the last few days had been "incredibly fast-paced".
He said that "lenders are having to rethink", which might be due to cost changes, as swap rates, which mortgages use to price their products, have increased too.
But he added that he expects lenders to "relaunch once the dust settles" – although that could generally be at a higher rate than previously seen.
Ms Mitchell added: "It's really important to remember that everyone has an individual set of circumstances, and what works for you might not work for your neighbour or your co-worker.
"Try to find a good broker and get some advice on what might work for you," she recommended.
The Resolution Foundation think tank said on Monday that for a homeowner with a £140,000 mortgage, rates rising to 5% could mean monthly payments going up by about £190, relative to rates staying at 2.25%.
Interest rates of 6% could push a typical mortgage payment up by another £80 a month, the foundation said.