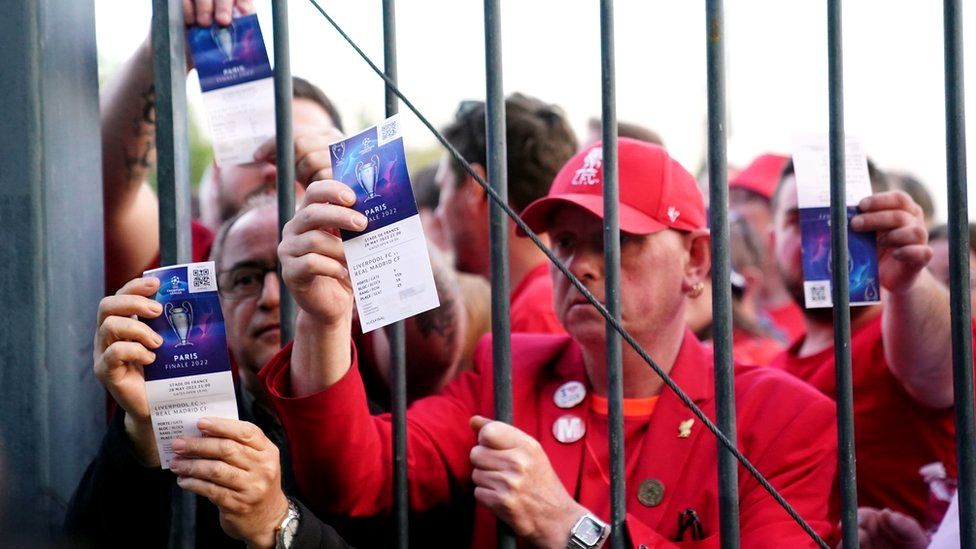 More than 1,700 Liverpool fans who claim they were injured or left with psychological trauma at the chaotic Champions League Final are to sue Uefa, lawyers have said.
European football's governing body is facing group actions over the final against Real Madrid in Paris.
Uefa delayed kick-off by 35 minutes, citing "security issues".
Liverpool law firm Bingham's said clients had spoken of "terrifying scenes" at the Stade de France.
Bingham's has teamed up with global law company Pogust Goodhead in a lawsuit for 1,450 clients alleging negligence.
Lawyers said they would sue Uefa for breach of contract in ticket sales and negligence over a duty of care they had towards supporters, who were harmed physically and psychologically. 
'Harrowing experiences'
Gerard Long from Binghams said: "As a life-long Liverpool fan, I was absolutely horrified when I heard how events unfolded at what should have been the highlight of the football season.
"Not only fellow fans, but my friends, family and clients who were in attendance that day have spoken of the terrifying scenes that surrounded the Stade de France before, and even after, the game."
Another law firm, Leigh Day, is also bringing actions. It said it believed Uefa "failed to provide a safe and secure environment" for fans.
Consumer and travel law experts Clare Campbell and Jill Paterson, who are leading Leigh Day's action, said: "It was truly shocking to see how Liverpool fans and others who had travelled to watch the Champions League final were treated both at the match and in the aftermath.
"The accounts of their experiences paint a picture of a terrifying situation where people really feared for their lives."
Leigh Day, which has offices in Liverpool, is representing 400 clients.
Liverpool FC has gathered 8,500 testimonies from supporters on their experiences that day to submit to an independent review, commissioned by Uefa.
Club chief executive Billy Hogan said they "suffered harrowing experiences".
Uefa has been approached for comment.