By Caroline Lowbridge
BBC News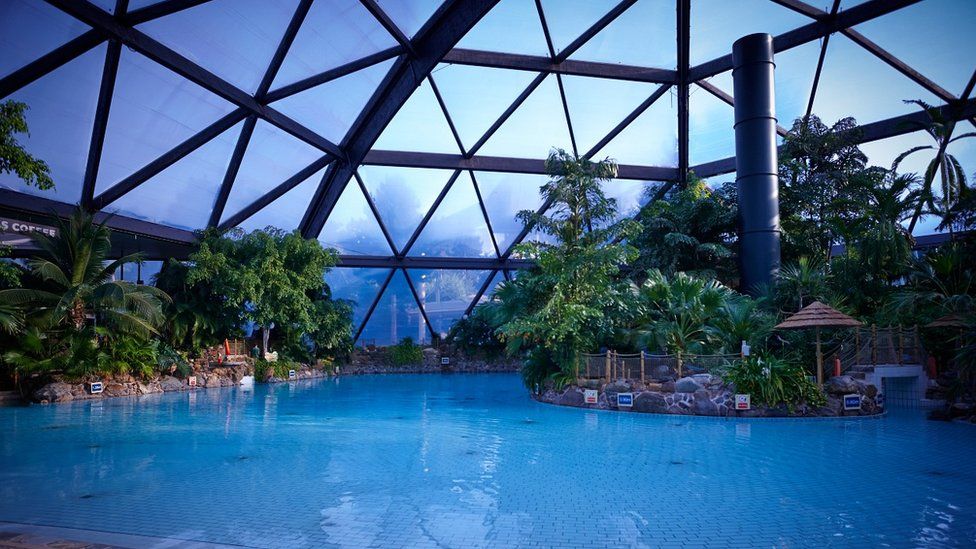 The company originally told guests they would need to leave by 10:00 BST on Monday and not return until Tuesday.
Guests already on holiday will now be able to stay, but people due to arrive on Monday will not be able to start their holidays until the following day.
Some of them have told the BBC it had cost them extra expense and also a lot of stress.
'You're left worrying'
Ellie Walters, who is getting married on Thursday, was due to check in on Monday for her honeymoon.
"I just think it's actually quite a disgrace because I'm so stressed about it," said Ms Walters, who is due to go to Center Parcs in Nottinghamshire.
"The trouble is you can't even get on the phone to them.
"You go away to have that relaxation and that stress-free time and just spend really nice quality time together, and you're left worrying and I don't think you should be doing that on your holiday."
Center Parcs has said it is closing its villages "as a mark of respect and to allow as many of our colleagues as possible to be part of this historic moment".
However, Ms Walters said it would have been better for staff and guests to watch the funeral together.
"Can you imagine how nice it would have been if everybody was at Center Parcs and they got a couple of screens up somewhere and everyone was together and watching it?" she said.
"I think that would have been a better scenario than having to shut everywhere and create a lot of stress for all the guests."
Center Parcs told some guests on Twitter they would need to "remain in their lodges" on Monday, leading some people to compare the sites to prisons.
However, Center Parcs has now said guests will be able to walk around the villages, which are in Cumbria, Nottinghamshire, Wiltshire, Suffolk and Bedfordshire.
The facilities, such as restaurants and swimming pools, will be closed.
Emma Sherlock, 37, planned to arrive at Center Parcs in Nottinghamshire on Monday with her husband and three disabled children.
She said they had spent a long time saving up £1,200 to go on the five-night trip, and have now had to spend an extra £300 to stay in a hotel for the first night.
"We need a family room for the equipment because I've got three disabled children," she explained.
"Feeding tubes, suction machines, specialist beds, we've had to organise and hire.
"We're not going to have another holiday for ages now because of the cost of living going up."
'Sobbing her heart out'
Their holiday had already been postponed twice due to the coronavirus pandemic.
She sympathised with Center Parcs staff who had been dealing with frustrated customers.
"I was on hold for two hours yesterday before they picked up and the lady was sobbing her heart out," she said.
David Tomlinson is among guests already staying at Center Parcs who were previously told they would need to leave for a day.
For him, this would have meant driving home to Solihull for two-and-a-half hours, then driving back to Nottinghamshire the day after.
He said the situation was still "not ideal".
"People are still paying for the use of those facilities they can't touch," he said.
"What riled me up yesterday was Center Parcs were responding to some people on Twitter but not to people with more serious issues."
He said he could understand some businesses closing, but people's holiday plans should not be changed at short notice.
"It's very different to McDonald's closing, which means you can't have a burger," he said.
"But people book to stay at Center Parcs a year in advance and pay quite a lot of money to go."
A Center Parcs spokesperson said: "Like many businesses we have taken the decision to close on Monday 19 September.
"This decision was taken as a mark of respect and to allow as many of our colleagues as possible to be part of this historic moment."