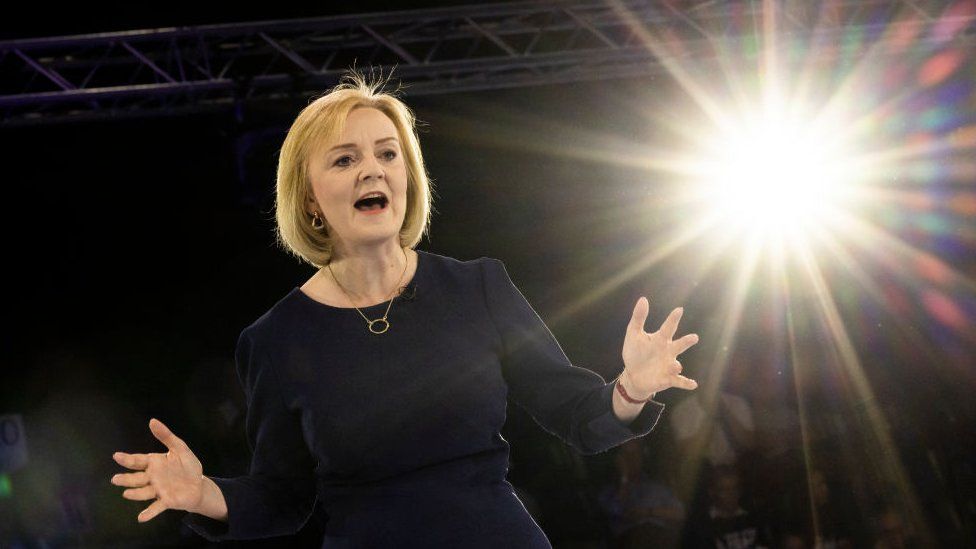 Liz Truss has been announced as the UK's next prime minister, after winning the Conservative Party leadership.
She was chosen by a vote among party members, who make up less than 1% of the UK population.
When does Liz Truss become prime minister?
Ms Truss was revealed as the winner of the leadership contest by Sir Graham Brady, chairman of the 1922 Committee of Conservative backbench MPs.
She won 81,326 votes, compared with 60,399 for former chancellor Rishi Sunak.
Boris Johnson is due to announce his resignation to the Queen on Tuesday. Shortly after this, Ms Truss will be appointed by the monarch as the new PM.
Constitutionally, there must be a prime minister at all times. So, Mr Johnson remains in post until his successor formally takes over.
Normally a new prime minister is invited to Buckingham Palace to be appointed by the Queen – on advice of the ruling party.
However, in a break from tradition, the Queen will instead stay in Balmoral and both Mr Johnson and Ms Truss will travel to Scotland to meet her there.
Who picked the next Tory leader and prime minister?
Conservative Party members picked the winner – in a choice between Ms Truss and Mr Sunak.
To try to win their votes, Mr Sunak and Ms Truss spent the summer taking part in hustings events around the UK, where they were questioned about their policies.
The events were open to Conservative members and were streamed on the party's website. Journalists were allowed to attend – but couldn't ask questions.
Will there be a general election?
When a prime minister resigns, there isn't automatically a general election.
When Theresa May took over from David Cameron in 2016, for example, she decided not to call an immediate election.
If Ms Truss chooses not to call an early election, the next one will have to be held by January 2025 at the latest.
How did voting work?
The ballot of party members closed on Friday 2 September.
To be able to vote, Conservative members had to have joined the party on or before 3 June 2022.
Eligible members could vote by post or online.
Originally they were going to be able to vote twice, with only their second vote – cast either online or by post – counted.
There were 172,437 members who were eligible to vote in the 2022 contest and turnout was 82.6%.
What powers does Boris Johnson still have?
Until he goes to the Queen and formally resigns, in theory Mr Johnson keeps all his powers.
However, in reality, he lacks the authority to introduce substantial new policies, and promised his cabinet that he would not make any "major changes of direction".
One of his final acts in office is likely to be awarding knighthoods and appointments to the House of Lords in his resignation honours list.
How were the final two candidates selected?
The Conservative Party's 357 eligible MPs held a series of votes. The candidate polling the lowest number was eliminated in each round, until only two remained:
Former Chancellor Rishi Sunak
Foreign Secretary Liz Truss
The six candidates knocked out were:
Trade Minister Penny Mordaunt (fifth ballot)
Former Equalities Minister Kemi Badenoch (fourth ballot)
Foreign Affairs Committee chairman Tom Tugendhat (third ballot)
Attorney General Suella Braverman (second ballot)
Chancellor Nadhim Zahawi (first ballot)
Former Health Secretary Jeremy Hunt (first ballot)