By Jo Black
BBC News East of England Correspondent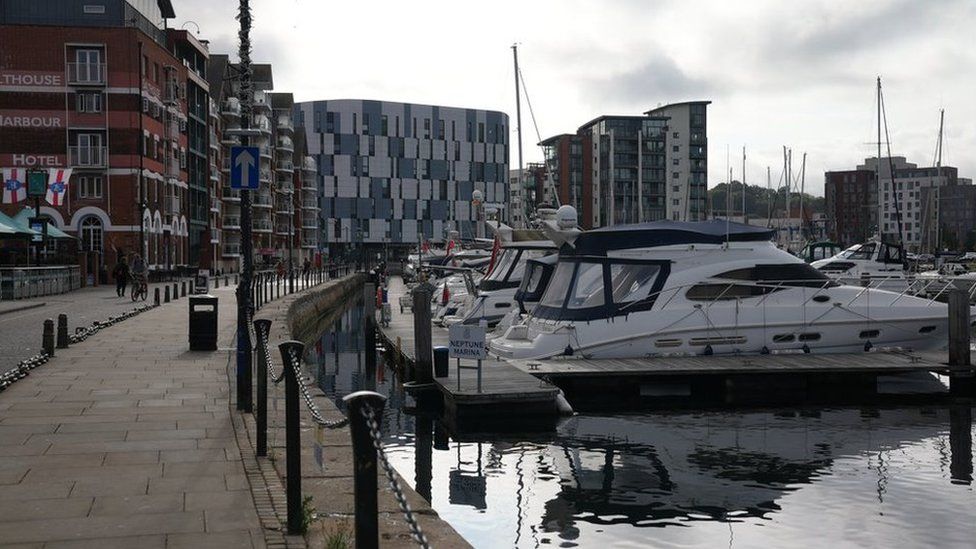 Go to any pub, coffee shop or meet-up with friends and there's one topic you can expect to hear being discussed – the cost of living.
In Ipswich, some expensive-looking boats moored along the River Orwell on its historic waterfront conjure up an image of comfort and wealth, but like everywhere, some residents are far from comfortable and are bracing themselves for more financial pressures.
The BBC spoke to four people in the town to find out how the rise in bills will impact them.
'I won't get into debt'
Five miles outside Ipswich in the village of Chattisham, a group of local residents meet every month at the Rural Coffee Caravan.
The touring caravan, run by a charity, provides social interaction for communities in Suffolk. Alongside the coffee and cake on offer, the staff and volunteers signpost people to various agencies and services if they need help.
Shirley Daniels, 82, a retired carer visits the caravan regularly to socialise with fellow villagers. She said she's fed up with the news and everyone talking about the cost of living.
"You don't want to hear it. It is hard for everybody."
Talking about how she will cope during the colder months, she said: "Regarding heating and things, well if I can't afford it, I won't put it on because I won't get in to debt. I've never been in debt in my life. I'll just cut back on food as well if I have to. I'd have a tin of soup and a roll, hopefully that would warm you up.
"I'd either wrap myself in a blanket or go to my granddaughter's and sit with her if it's really cold. I won't be a burden to anybody. I'll just get on with it, that's what we do. We have to."
'The heating isn't going on till the last minute'
Margaret Engle, 64, a supermarket cashier, said she will wait until the very last minute before she puts her heating back on.
"You just wait until you absolutely have to put it on and hope for the best. I leave it as long as possible before I put mine on. I have an open fire which does help," she said.
"It's not good. I struggle with bills and stuff like that, but you've just got to get on with it. I work full-time so I'm not too bad. I'm not saying I'm brilliant either, just get on with it. You've got to, you've got no choice."
'I will have to cut down on luxuries'
Stephen Ramsey, 69, a retired company director, has been going to the caravan for three years and said he and his wife will probably start to cut down on luxuries.
"The cost of living is on my mind, not necessarily for myself but for my family – they've got young families and mortgages to pay so it's a worry from that point of view, but from a personal point of view we would cope day to day.
"I have a luxury in my own home. I have solar panels and we have an electric car – the car gets charged from solar panels so the cost of motoring is minimal from that point of view.
"We may have to cut back on a bit of food, meals out, the luxuries in life. We do notice the food bills go up in the shops."
'There's little pressures everywhere'
People becoming more price-conscious is something that Andrew Bavington-Barber, owner of the Hot Sausage Company in Ipswich, is seeing.
He has traded at the town centre stall for nearly 35 years and has seen good times and bad. He said his stock prices have shot up by 20%, on everything from bread to cheese to sunflower oil.
"We put our prices up last year and we've had to put them up again this year, only by small incremental amounts," the 61-year-old said.
His customers have been commenting on it and he knows they are watching their finances.
"You're scared of putting your prices up because you feel you might lose market share, but if you don't put your prices up it really eats into your margins. There's little pressures everywhere."
Find out why food prices are also on the rise.