By Mark Easton & Jasmine Andersson
Home editor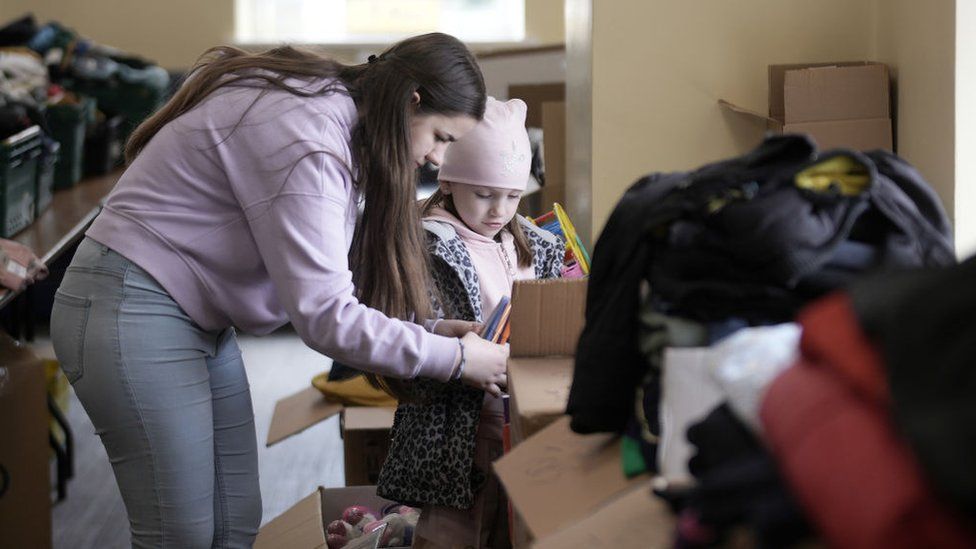 A quarter of sponsors of Ukrainians as part of the Homes for Ukraine scheme do not want to continue the arrangement beyond six months, the Office for National Statistics (ONS) has found.
Sponsors agreed to provide accommodation in their own home for a minimum of six months.
But there are concerns at what will happen when those arrangements reach the end of that time.
The scheme was set up by the government to help those fleeing Russia's invasion of Ukraine, and worked alongside the Ukraine Family Scheme – which allowed refugees to join relatives already living in the UK.
An ONS survey of Homes for Ukraine hosts found 26% want to end their sponsorship after six months or less.
Six out of 10 sponsors said they were happy to accommodate their Ukrainian guests for more than the agreed minimum with almost a quarter saying they would be prepared to continue the arrangement for more than a year.
However, almost all sponsors said they had provided support and help to their guests that went beyond the official arrangement.
Eight out of 10 said they had given them food, two-thirds had helped them find work and 45% had provided financial support.
The ONS research also found that 18% of those signed up for the scheme were still waiting for guests to move in.
Of those who did not wish to accommodate Ukrainians for more than six months, just under a quarter said their decision was down to the rising cost of living.
Sponsors currently receive £350 a month but the survey found four in 10 might be prepared to host for longer if there was more financial help.
Maria Divid has been hosting a Ukrainian refugee since April and said she was "very happy" to host her guest for another six months.
The refugee, a woman from the Ukraine capital Kyiv, lives in Ms Divid's spare room in her London home.
"I'm originally from Russia and was devastated by the conflict, so I was very keen to counteract the consequences of the war in any way I could," she told BBC News.
She said being a sponsor had led to her bills going up but that was more than covered by the £350 she received each month from the government.
"My guest also buys her own food, so the costs are managed. But I can imagine for other households it could be more of an issue," she added.
Another Londoner, who asked not to be named, took in a single Ukrainian man into the home he shares with his wife. 
But after three months the arrangement broke down.
The young man left their home and is now staying in free council housing for the remaining three months that he would have spent with his original hosts. 
His sponsor said they had tried to help their guest settle with lots of chats and loans but it became challenging when he would not claim benefits or meet up with other Ukrainians in the UK.
"It meant there was a lot of pressure on us, apart from hosting him." 
The young man also had mental health difficulties and was "understandably struggling with some issues,", his sponsor said, but there was no support for ending the scheme.
"What the government are asking from you is to provide a full social security system. As soon as there's any problem or confusion or challenge, there was nowhere to turn or no one to help," he added.
'Public goodwill'
The ONS surveyed all UK adults registered with the scheme as of 7 July, in collaboration with the Department for Levelling Up, Housing and Communities (DLUHC), with 17,702 people responding.
Recent government figures show 145 placements have ended with Ukrainian refugees finding themselves homeless, 90 because the relationship broke down and 55 where the accommodation was deemed unsuitable before they moved in.
"We see a lot of generosity and goodwill in what hosts report doing for their guests," Tim Gibbs, from the ONS, said.
"The majority are still hosting and many indicate a willingness to host beyond the initial six months.
"However, we also see the additional work and expense involved in hosting with some saying more or ongoing support would be welcomed."
Refugees minister Lord Harrington said the vast majority of sponsors wanted to provide support for longer than six months which was a "testament to the goodwill the British public has shown the people of Ukraine since tanks first rolled across the border".
Sponsors would continue to receive thank you payments for up to 12 months and the government is contacting hosts to outline the next steps and support available, he said.
"We initially asked sponsors to host for a minimum of six months and we are working closely with councils to ensure Ukrainians have a safe place to live if they decide to move on," Lord Harrington said.
There are concerns from councils about the number of hosts who say they do not want to continue with the scheme, and Local Government Association chairman James Jamieson said they were talking to the government about how they might be encouraged to do so.
"For instance, increasing the thank you payment to a higher amount so the sponsors can be sure it's not costing them," he said.
"There is a significant risk – even if re-matching is available – that many Ukrainian families may need to present as homeless because of a lack of sponsors or options."
Additional reporting by Marita Moloney